Edward Cobb Outlaw
---
Rear Admiral Edward Cobb Outlaw - born 29 Sept 1914 Greenville, NC
Edward Outlaw graduated from the U.S. Naval Academy at Annapolis, Class of 1935

U.S. Aces of WWII - Navy Cross
Lieutenant Commander Edward C. Outlaw, Commander Fighting Squadron 32 and Air Group 32, with other VF-32 pilots in flight quarters after a sweep over Truk, 29 April 1944. Note steward serving drinks, status boards on the bulkhead and ventilator on the overhead. - USS Langley, CVL-27
Carriers in combat the air war at sea - Vietnam
U.S. Navy Fighter Squadrons in World War II (9780933424746) Barrett Tillman Books
Squadron # "Nickname"

Start
End
A/C
Carrier/Base
Top Ace (kills w/ sqn)
CO (kills w/ sqn)
Kills
#
Aces
Intrepid The Epic Story of America's Most Legendary Warship
USS Langley, CVL-27 - VF-32 -Outlaw's Bandits (Est 1 Jun 1943, Dis 13 Nov 1945) (F6F-3/5)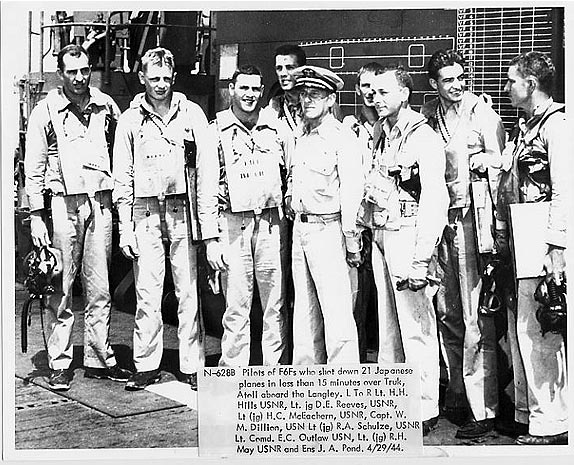 LANGLEY FIGHTER ACES, APRIL 29, 1944 - The photo caption reads, "Pilots of F6F's who shot down 21 Japanese planes in less than 15 minutes over Truk Atoll aboard the Langley." - photo courtesy and copyright of The USS Langley CVL-27 Association
Hellcat Aces of World War 2 - Barrett Tillman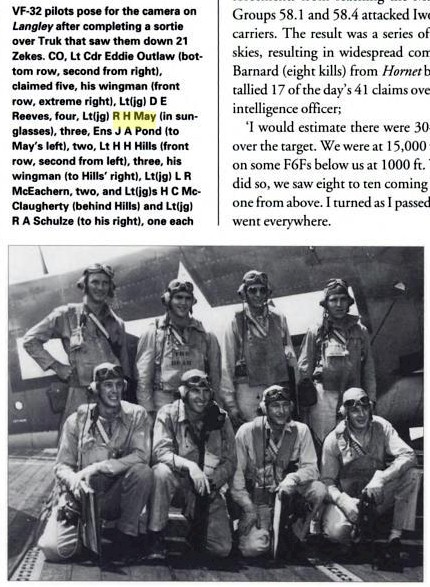 Grumman F6F-3 Hellcat on the flight deck of USS Yorktown (CV-10) prior to take off, having its wings extended
Grumman F6F Hellcat was a carrier-based fighter aircraft developed to replace the earlier F4F Wildcat in United States Navy (USN) service. Although the F6F resembled the Wildcat, it was a completely new design powered by a 2,000 hp Pratt & Whitney R-2800. Some tagged it as the "Wildcat's big brother".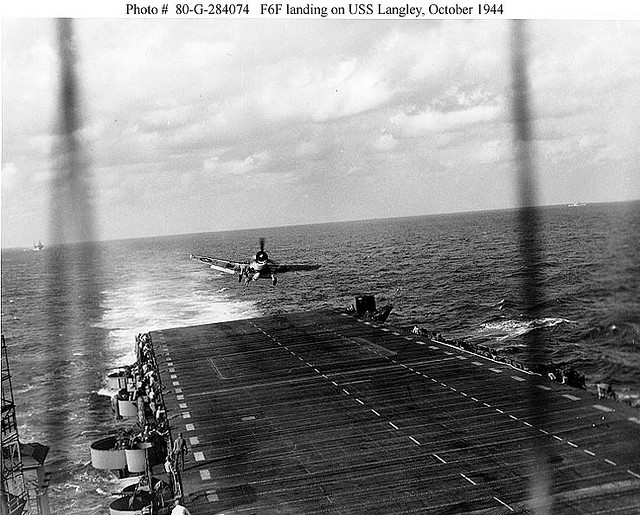 WWII Ace - Navy Cross - Rear Admiral Edward Cobb Outlaw - tells the truth about Vietnam:

Carriers in combat the air war at sea - Vietnam - Rolling Thunder - Cambodian supply depots off limits - SOVIET SA-2 SAM sites shot down 115 American planes . "We were restrained to carrying out a campaign which seemed designed NOT to win" because RUSSIAN technicians might be killed. McNamara did not allow pilots to attack any installation where MIG's were based.
---
Rear Admiral Edward Cobb Outlaw - born 29 Sept 1914 Greenville, NC
Edward Outlaw graduated from the U.S. Naval Academy at Annapolis, Class of 1935
Aces WWII - Edward C Outlaw, LtCdr USN

USN Ships--USS Langley (CVL-27)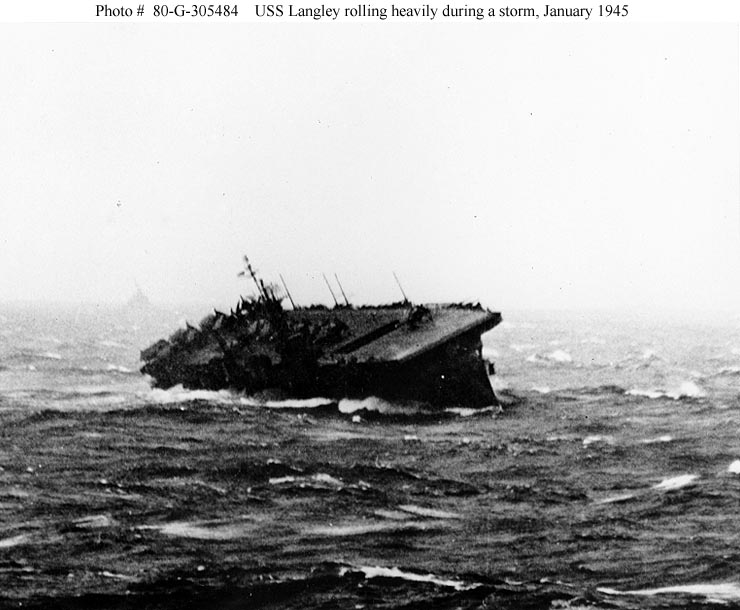 USS Langley, an 11,000-ton Independence class small aircraft carrier built at Camden, New Jersey, was originally ordered as the light cruiser Fargo (CL-85). By the time her keel was laid in April 1942, she had been redesigned as an aircraft carrier, using the original cruiser hull and machinery. Commissioned in August 1943, Langley went to the Pacific late in the year and entered combat during the Marshalls operation in January-February 1944. During the next four months, her planes attacked Japanese positions in the central Pacific and western New Guinea. In June 1944, she took part in the assault on the Marianas and in the Battle of the Philippine Sea.
Langley continued her war role through the rest of 1944, participating in the Palaus Operation, raids on the Philippines, Formosa and the Ryukyus, and the Battle of Leyte Gulf. In January-February 1945, she was part of the Third Fleet's foray into the South China Sea, the first massed carrier attacks on the Japanese Home Islands and the invasion of Iwo Jima. More combat activity followed in March-May, as Langley's planes again hit targets in Japan and supported the Okinawa operation. Overhauled in the U.S. in June and July, she was en route back to the Pacific war zone when the conflict ended in August.
Following service transporting Pacific veterans home, Langley went to the Atlantic, where she carried out similar missions in November 1945 - January 1946. Inactive at Philadelphia, Pennsylvania, during the remainder of 1946, the carrier decommissioned there in February 1947. Langley was taken out of "mothballs" early in 1951, refurbished and transferred to France under the Mutual Defense Assistance Program. After more than a decade of French Navy service, under the name La Fayette, she was returned to the United States in March 1963 and sold for scrapping a year later.
U.S. Navy Fighter Squadrons in World War II (9780933424746) Barrett Tillman Books
Squadron # Nickname"
Start
End
A/C
Carrier/Base
Top Ace (kills w/ sqn)
CO (kills w/ sqn)
Kills
#
Aces
Intrepid The Epic Story of America's Most Legendary Warship

Aircraft Carrier Photo Index USS LANGLEY (CVL-27)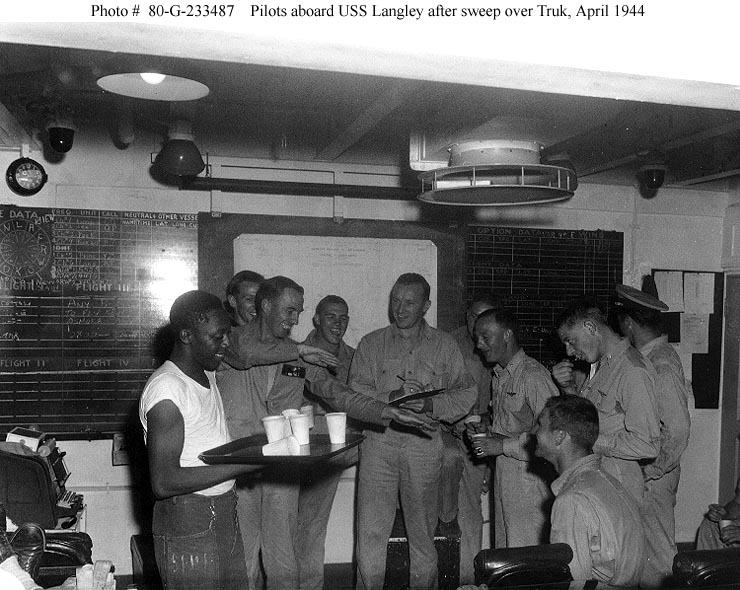 Photo #: 80-G-233487 USS Langley (CVL-27)

Lieutenant Commander Edward C. Outlaw, Commander Fighting Squadron 32 and Air Group 32, with other VF-32 pilots in flight quarters after a sweep over Truk, 29 April 1944.

If they had their way, He would not even have been a pilot in WWII:

http://www.newtotalitarians.com/PretendersFailureOfAdmiralship.html - New Totalitarians

More recently, ADM Edward C. 'Eddie' Outlaw, who was a ne'rdowell at the Academy, became an outstanding fighter pilot during WWII.

In fact, that war molded Outlaw into the leader he became. Those under his command as C.O. of the Intrepid during the late 1950s revered 'Eddie' Outlaw for his 'atta boys' for difficult tasks well done.

Midshipman Outlaw graduated 436th out of 442 in his 1935 Naval Academy class -- 6th from the bottom.

His is another shining example that neither class standing, nor the Naval Academy for that matter, make that much of a difference in whether one becomes a 'warrior' and a leader in wartime or not -- it is the real world caldron of combat experience that defines and molds the leader -- the kind the Navy needs now more than ever in the age of Political Correctness.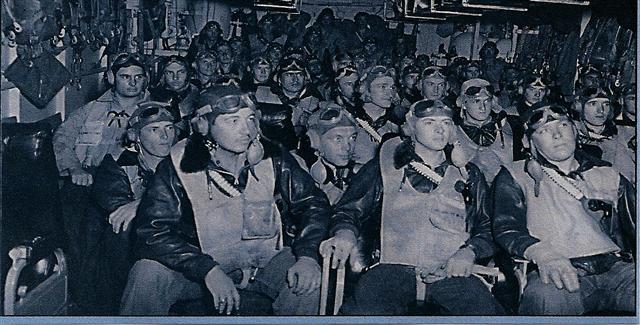 Intrepid Fighter Aces

Outlaw, Edward C., Cdr., VF-32, USS Langley (CVL-27), CO USS Intrepid (CVA-11) - 6
Born 1914 in Greenville, NC; Public Schools, Goldboro, NC.; USNA '35, Retired, Durham, NC '69.

Flight Training, Pensacola '37-'38. USS Enterprise, Scouting Squadron 6. '42 deployed to Pacific as XO (VC-11) flying F4F (Wildcats). Led flight of 54 from Fiji to Guadalcanal to re-enforce Marine Corps. He served there as leader of the Navy Fighter Group. 1943 formed VF-32 as CO. Deployed on USS Langley .

April 29, '44, he led a flight of 8 Hellcats on a pre-dawn fighter sweep over Truk atoll; at dawn sighted a flight of about 36 Japanese Zeroes flying at 10,000 ft in column of V's; first pass his flight flamed 8; then, exercising perfect discipline "Holly" Hills (4 kills) led his division to "high cover" where they accounted for seven of the enemy. Cdr. Outlaw shot down 5 and 1 probable, fellow Ace, Dick May got 3 and Outlaw's wingman 4. Total for this brief action was 22 victories and 6 probables. The action took place in less than ten minutes and was declared by COMNAVAIRPAC to be "a perfect example of air combat and air discipline."

Subsequently, he served three times in Pentagon; as CO of USS Duxbury Bay and USS Intrepid; as CO Air Group Six (Coral Sea); CO Heavy Attack Squadron five (NucWpns).

Selected to rank of Rear Admiral and served as Commander Naval Aviation Safety Center;
Commander Carrier Division One and Task Force 77 of Vietnam '64-'65 where he directed first sustained attacks;
Commander CARDIVS 16 and 20 and Commander Hunter-Killer Force, Atlantic Fleet.

His last assignment was as Commander Fleet Aircraft Mediterranean/CTF-67/ and Maritime Air Mediterranean (a NATO organization of which he was the first commander). Decorations: Navy Cross, Legion of Merit (3), DFC (3)
---
COMMANDER CARRIER DIVISION ONE

Rear Admiral Edward C. Outlaw
born 29 Sept 1914 Greenville, NC.
Married Mary Ellen Yeargin of Pensacola, FL
Son: Edward C. Jr who is married to Pamela Thiesen of Wilmington, DE.
1930 - Graduated High School
1931 - U.S. Naval Academy, Annapolis, MD.
1935 - Graduated and commissioned Ensign
Assigned to USS INDIANAPOLIS
Flight Training School Pensacola, FL.
1938 - Designated Naval Aviator
Assigned to VS-6 aboard the USS ENTERPRISE
Assigned to Pensacola, FL. and Corpus Christi, TX.
May 1942 - Executive Officer of VC-11 aboard the USS ALTAMAHA
Operations Officer for Navy Fighter Group ONE Guadalcanal
April 1943 - Commanding Officer VF-32
Operations Officer Task Group 38.2
Executive Officer, Naval Air Station, Corpus Christi, TX.
Training Officer of the Basic Training Command, the first class of the Armed Forces Staff College
Commander, Battle Carrier Air Group FIVE
Training Officer, Naval Air Force, U.S. Atlantic Fleet
Commanding Officer, VC-5
Chief of Operations and Training, Armed Forces Special Weapons Project
Executive Officer, USS FRANKLIN D. ROOSEVELT
Staff, Commander Strike Forces Southern Europe
Staff, Chief of Naval Operations
National War College
Commanding Officer, Analysis Staff for the Deputy Chief of Naval operations for Air
Commander, U.S. Naval Aviation Safety Center
Commander Carrier Division ONE
Awards - Navy Cross, 2 distinguished Flying Crosses, 6 Air Medals, Presidential Unit Citation, Navy Unit Commendation, Philippine Liberation Ribbon, American Defense Service Ribbon, Asiatic-Pacific Campaign Ribbon, American Campaign Medal, Navy Occupation Service Medal, and National Defense Service Medal.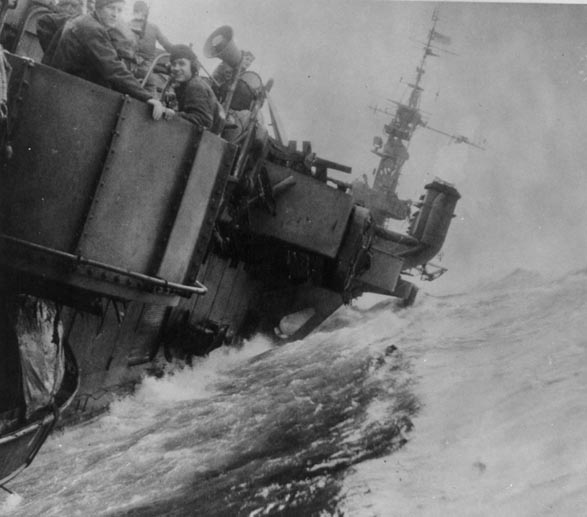 THE LANGLEY IN THE MIDST OF THE GREAT TYPHOON OF DECEMBER, 1944.
---
National Naval Aviation Foundation - Charter In Memorium - Service Member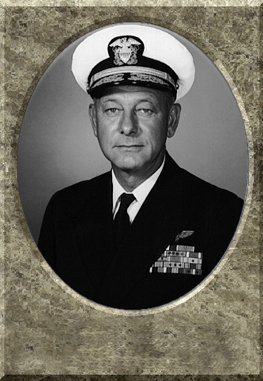 In Memory of
Rear Admiral Edward Cobb Outlaw, USN (Ret.)
Born Sept. 29, 1914
Died Mar. 5, 1996
---