http://www.rand.org/about/history/
In May 1946, the first RAND report appeared
, Preliminary
Design of an Experimental World-Circling Spaceship
http://www.rand.org/pubs/special_memoranda/SM11827/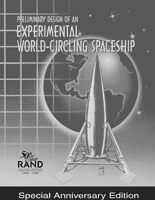 More than eleven years before the orbiting of Sputnik, history's first artificial space satellite,
Project RAND — then active within Douglas Aircraft Company's Engineering Division
— released its first report: Preliminary Design of an Experimental World-Circling Spaceship (SM-11827), May 2, 1946. Interest in the feasibility of space satellites had surfaced somewhat earlier in a
Navy proposal for an interservice space program (March 1946)
.
Major General Curtis E. LeMay
, then Deputy Chief of the Air Staff for Research and Development,
considered space operations to be an extension of air operations
...
Alfred Loomis as "Dr. Grant"? Interesting - first satallite scenario in 1947?
http://www.airlockalpha.com/node/7596
'Eureka' - Founder's Day
...
James Callis as Dr. Trevor Grant
Jack risked life and limb to shift the
satellite alignment
... if Dr. Grant is restored back to 1947 remains to be seen.