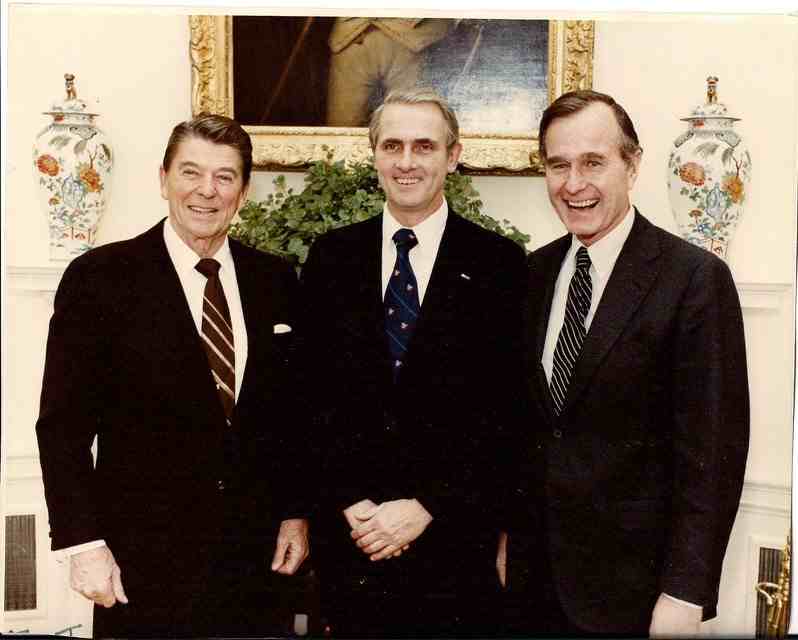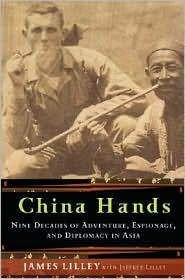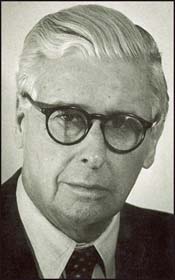 Reagan - Lilley - HWBush
-
Cord Meyer
Interesting:
CIA agent Cord Meyer
was a member of
the Yale Club of Washington
So was James R. Lilley Amb. to China 1989 - both a CIA asset and an Amb. hmmm...
http://www.arlingtoncemetery.net/cordmeyer.htm
George J. Tenet, the C.I.A. director, released a statement calling Mr. Meyer "a passionate defender of freedom around the world."
...
Born here in 1920, the son of a diplomat and grandson of a New York State Democratic chairman,
Mr. Meyer attended elite schools and entered Yale University in 1939
. In 1942, he enlisted in the Marine Corps Reserve. He was sent to the South Pacific, where, as a machine-gun platoon leader, he took part in the assault on Guam. He was wounded in a grenade attack and lost his left eye. He was later awarded the Purple Heart and Bronze Star.
Mr. Meyer's twin brother, Quentin, was killed at Okinawa.
...
Mr. Meyer was a founding member of the United World Federalists
, where he fought for controls on the use of atomic weapons.
He also helped establish the American Veterans Committee, a liberal group that sought to deny preferential treatment for veterans. While in that organization, he came in direct contact with Communist infiltration techniques, said his son, Mark Meyer. Mr. Meyer's moves to thwart Soviet agents helped exonerate him from accusations that he would soon face, his son said.
With the explosion of an atomic bomb by the Soviet Union in 1949, Mr. Meyer saw his hopes for arms control dissipate and was troubled by the Berlin blockade and the invasion of South Korea.
He left his postgraduate work at Harvard and signed up with the C.I.A.
Two years after joining the spy agency, Mr. Meyer was accused by the F.B.I. of Communist sympathies. A C.I.A. hearing board eventually acquitted him of all charges
.
...
A fluent writer whose dispatches from the war were published in The Atlantic Monthly,
Mr. Meyer at age 26 completed a short story, "Waves of Darkness,"
that won the O. Henry Prize in 1946 for best first-published story.
See: "Bion - his "beams of darkness"
...
| - -- - -
Now read the following and tell me that Lilley did not know Downey in 1952:
http://www.yaleclubdc.org/
Welcome to the Yale Club of Washington!

http://alumninet.yale.edu/clubs/dc01/events.html
Ambassador James R. Lilley '51
Ambassador Lilley will discuss his newly published book, China Hands, a memoir of his career as a CIA Officer in Asia during the Cold War and, subsquently, as a diplomat serving as the de facto US Ambassador to Taiwan in the early 1980s and as Ambassador first to South Korea and then to China during the Tiananmen Massacre in 1989.
This book, which has been favorably reviewd by critics,
begins with his childhood growing up in China
.
After graduation from Yale in 1951, he joined the CIA and served in Japan, Taiwan and Hong Kong with the mission to learn as much as possible about mainland China, including training guerrillas and dropping agents into the mainland.
His insider accounts of US-China relations during the Nixon years through Tiananmen Square are fascinating, particularly his letter to President George H. W. Bush warning about imminent violence that was intercepted and went unheeded by the Washington diplomats.
...
Date: Wednesday, October 13
http://en.wikipedia.org/wiki/James_R._Lilley
James Roderick Lilley
(simplified Chinese: 李洁明; traditional Chinese: 李潔明; pinyin: Lǐ​ Jié​míng​); born January 15, 1928 in Qingdao, China; died November 12, 2009 in Washington, DC; was an American diplomat who served as United States Ambassador to China at the time of the Tiananmen Square protests of 1989.
Born to American parents in China, he learned Mandarin at a young age before his family moved back to the United States at the outbreak of World War II
. Lilley served in the United States Army before earning an
undergraduate degree from Yale University and a masters in international relations from George Washington University. He then joined the Central Intelligence Agency
,
...
[ A Rockefeller boy: ]
His father, an oil executive who had moved to China to work for Standard Oil in 1916
, and his mother, a teacher, hired a Chinese nanny to help raise him, and he spoke Mandarin fluently from a young age in addition to French and English...
...
In the United States,
he attended Phillips Exeter Academy and served in the United States Army at Fort Dix
, New Jersey from 1945-1946. During his army service, Lilley's elder brother, whom he revered and who was an American soldier stationed in Hiroshima, Japan, committed suicide
...
As a CIA operative, Lilley worked in countries across Asia, including Laos, Japan, Hong Kong, Taiwan, and Chin
a.[3] In
Laos, he worked to undermine the Communist insurgency, and he helped to insert a number of CIA agents into China
.[1] By
1975, Lilley was appointed to the position of national intelligence officer for China, which made him the highest-ranked expert on China in the American intelligence community
...
Lilley was appointed by President George H.W. Bush to be Ambassador to China in 1989
, becoming the only American diplomat to head diplomatic missions in both mainland China and Taiwan
| - - - - - CIA/Yale in China 1951:
https://www.cia.gov/library/center-for-the-study-of-intelligence/csi-publications/csi-studies/studies/vol50no4/two-cia-prisoners-in-china-1952201373.html
Two CIA Prisoners in China, 1952–73
Beijing's capture, imprisonment, and eventual release of CIA officers John T. Downey and Richard G. Fecteau is an amazing story that too few know about today. Shot down over Communist China on their first operational mission in 1952, these young men spent the next two decades imprisoned, often in solitary confinement, while their government officially denied they were CIA officers.
Fecteau was released in 1971, Downey in 1973
. They came home to an America vastly different from the place they had left, but both adjusted surprisingly well and continue to live full lives
...
John Downey and Richard Fecteau were youthful CIA paramilitary officers:
Downey, born in Connecticut, had entered CIA in June 1951, after graduating from Yale
; Fecteau, from Massachusetts, entered on duty a few months later, having graduated from Boston University. Both men had been varsity football players, and both were outgoing and engaging with noted senses of humor.
They were on their first overseas assignment when the shootdown occurred.
By late 1952, the Korean War had been going on for more than two years. Accounts often identify that war as the reason for the operation Downey and Fecteau were participating in. While largely true,
the flight the men were on was part of operations that had antecedents in the US response to the communist takeover of China in 1949
. In accordance with US policies,
CIA took steps to exploit the potential for a Chinese "Third Force" by trying to link Chinese agents, trained by CIA, with alleged dissident generals on the mainland. This Third Force, while anticommunist, would be separate from the Nationalists, who were assessed to be largely discredited on the mainland
This Third Force project received new emphasis after the Communist Chinese intervened in the Korean War. At that point,
the project aimed to divert Chinese resources from the war in Korea by promoting domestic antigovernment guerrilla operations. This was to be accomplished by small teams of Chinese agents, generally inserted through airdrops, who were to link up with local guerrilla forces, collect intelligence and possibly engage in sabotage and psychological warfare, and report back by radio
.[3] The operational
model was the OSS experience in Europe during World War II, which assumed a cooperative captive population—a situation, as it turned out, that did not prevail in China
.
By the time of Downey and Fecteau's involvement in the Third Force program, its record was short and inauspicious. Because of resource constraints, the training of Chinese agents at CIA facilities in Asia was delayed, and
the first Third Force team to be airdropped did not deploy until April 1952. This fourman team parachuted into southern China and was never heard from again.
The second Third Force team comprised five ethnic Chinese dropped into the Jilin region of Manchuria in midJuly 1952. Downey was well known to the Chinese operatives on this team because he had trained them
. The team quickly established radio contact with Downey's CIA unit outside of China and was resupplied by air in August and October. A sixth team member, intended as a courier between the team and the controlling CIA unit, was dropped in September. In early November, the team reported contact with a local dissident leader and said it had obtained needed operational documents such as official credentials. They requested airexfiltration of the courier, a method he had trained for but that the CIA had never attempted operationally.
Mission Gone Awry
The C47, with its CAT pilots and CIA crew, was heading for a trap
. The agent team, unbeknownst to the men on
the flight, had been captured by Communist Chinese security forces and had been turned
.[5] The request for exfiltration was a ruse, and the promised documentation and purported contact with a local dissident leader were merely bait.
The team members almost certainly had told Chinese authorities everything they knew about the operation and about the CIA men and facilities associated with it
. From the way the ambush was conducted, it was clear that the Chinese Communists knew exactly what to expect when the C47 arrived at the pickup point
...
Whether due to gunfire, the impact, or the fire, the pilots died at the scene.[9] Fecteau later remembered standing outside the aircraft with Downey, both stunned but conscious, telling each other that they were "in a hell of a mess." The Chinese security forces descended on them, "whooping and hollering," and they gave themselves up to the inevitable.
...
Over the years, various explanations arose within CIA to explain Downey and Fecteau's participation in the illfated mission.
It seemed incredible to operations officers that two CIA employees, familiar with operations, locations, and personnel, would be sent on a mission that exposed them to possible capture by the Chinese Communists
"It may have been poor judgment on the part of Downey and Fecteau's boss, the CIA unit chief"
...
The men were never tortured physically or, after their initial capture, beaten.[12] Fecteau reported that he wore leg irons constantly for the first 10 months and that he was made to stand during interrogations to the point of falling down from exhaustion, especially after being caught lying or bluffing. Downey remembered the leg irons and the intense psychological pressure of interrogations, plus the added mental stress from concocting new stories after the cover story evaporated—as he later acknowledged, telling lies requires an extraordinarily good memory.
Eventually both men—isolated from each other, battered psychologically, threatened with torture and execution—talked, albeit divulging varying degrees of truth. Downey, hemmed in by the disclosures of the team he had trained, confessed his CIA affiliation on the 16th day. He later recalled that telling what he knew was liberating: "I'm free and they have got to leave me in peace, and thus relieve the psychological strain of resisting…. [They] can't come at me anymore mentally because it is all out there."
...
That day, 23 November 1954, almost a year after the CIA had pronounced Downey and Fecteau "presumed dead," Beijing declared them alive, in custody, and serving their sentences as convicted CIA spies
. The first that the Agency learned of it was through a New China News Agency broadcast. At the same time, the Chinese announced the sentencing, also for espionage, of the officers and crew of a US Air Force B29 aircraft, shot down over China some weeks after Downey and Fecteau's C47 flight.
...
http://www.katu.com/news/national/96719184.html
CIA comes clean about failed Cold War spy mission
By ROBERT BURNS, AP National Security Writer Published:
Jun 19, 2010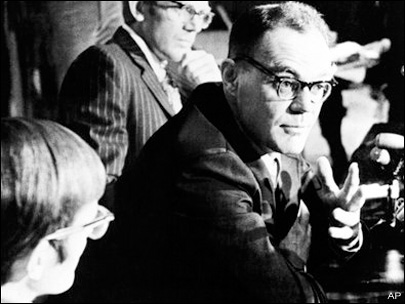 Downey
WASHINGTON (AP) -
Detail by painful detail, the CIA is coming to grips with one of the most devastating episodes in its history, a botched cloak-and-dagger flight into China that stole two decades of freedom from a pair of fresh-faced American operatives and cost the lives of their two pilots
.
In opening up about the 1952 debacle, the CIA is finding ways to use it as a teaching tool.
Mistakes of the past can
serve as cautionary tales for today's spies
and paramilitary officers taking on al-Qaida and other terrorist targets
...
Three years ago, the CIA declassified an internal history of the affair.
Now it's hired a filmmaker to produce an hourlong documentary. The CIA does not plan to release the film publicly. But the agency premiered it for employees on Tuesday at its Langley, Va., headquarters, and an AP reporter attended
.
Downey and Fecteau declined through CIA officials to be interviewed for this story. They attended the film screening and were flooded with applause and agency autograph seekers.
http://en.wikipedia.org/wiki/John_T._Downey
He joined the Central Intelligence Agency soon after Yale and became one of two CIA officers (the other was Richard G. Fecteau, a Boston University graduate) who survived the shoot-down of their mission over the People's Republic of China in November 1952, were captured, and spent approximately the next two decades in Chinese prisons before release. Today, the episode is less well known than that of Gary Powers, the United States Air Force spy plane pilot who was shot down over the Soviet Union in 1960.
...
In late
June 1998, CIA Director George Tenet awarded Downey and Fecteau the CIA Director's Medal for their service to their country
, in a private ceremony described in an Associated Press article on July 3, 1998.
The AP account quoted
Ambassador James R. Lilley, a retired CIA officer and Yale classmate of Downey's
who served as U.S. envoy in both Seoul and Beijing a speaker at the event, saying that
Downey was released after Nixon publicly admitted he had been on a CIA operation
.
FOIA - STUDIES IN INTELLIGENCE/Downey Facteau