TWELFTH GENERATION
http://www.p-c-net.net/~boutlaw/
---
135. Abud Harrison "Bob" OUTLAW was born about 1837 in Alabama.(17) He died on 1 Jun 1905. He was buried in Liberty Baptist Church Cemetary. I believe that "Robert", listed as the son of Edward and Cynthia Outlaw in the 1850 Pike County Census, and Abud are the same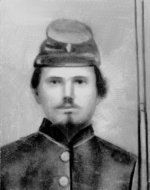 person. Paw remembers Abud being called "Bob", which is a nickname for Robert. It is probable
that the Census takers wrote down "Robert" as Abud's name if Edward called him Bob during the census. Another reason for this belief is the existance of two lists, one officiial, and the other un-official, of the men that signed up at Union Spings, Alabama, for duty with the 23rd Alabama Infantry, C.S.A.. There was only one Outlaw listed on the un-official list, and he was called Robert Outlaw. There were four listed on the official list; A.H. Outlaw (Abud), S.A. Outlaw (Sandy), Edward Outlaw, and Alexander Outlaw. In the reference to these lists, the last three names were noted as NOT being listed on the un-official list. This should leave only one Outlaw as being on both lists. It probably happened that the person that compiled the un-official list knew Abud as "Bob" and wrote down "Robert" as his official name, but when Abud was required to give his true legal name to the commander of the Company, he gave Abud Harrison, or A.H. as his initials, therefore the Outlaw on the un-official list, "Robert", and the remaining Outlaw on the offical list, "Abud",
would be the same person. Another supporting fact is that the only name that Paw remembers Abud's father being called was "Ned". As a matter of fact, Paw said that is why he has been called "Ned" all of his life, as a namesake to his great-grandfather. According to Webster's Dictionary, "Ned" is a nickname for "Edward", and Robert's father, as listed in the 1850 Census for Pike County was Edward Outlaw. I am searching for some type of confirmation of this, but I think that this link is pretty solid. Abud is also listed as Edward's son in "Historical Southern Families - Volume XVI", but he is listed as being born prior to 1830. They also have him listed as being another son than Robert, but the authors did not know about Abud being called "Bob".

Merged General Note:
In the 1870 Census for Bullock County Alabama, Abud is listed as a farmer, with personal property valued at $100.00. Abud, and Jane, were counted by Census takers at the Thomasville, Alabama Post Office, and were listed as living in Bughall, Alabama, Beat #5. The Census was dated June 23, 1870.
He was married to Alice Jane "Mammie" WILLIAMSON (daughter of Pleasant W. "Plez" WILLIAMSON and Rebecca INGRAM) on 28 Sep 1865 in Monticello, Alabama (Pike County). Alice Jane "Mammie" WILLIAMSON was born on 13 Oct 1840. She died on 22 Jan 1927. She was buried in Liberty Baptist Church Cemetary. There is no marker on Mammie's grave. Paw (William E. Outlaw, Sr.) said that both her and Abud were buried in open graves, ie., there is no vault, so there is no slab to mark where the graves are. Abud's grave is marked by a Confederate Army Service stone, but Mammie's is not marked with anything. Paw said that she is buried at either the head or foot of Abud, because there was a fence running beside his grave at the time she was buried. Alice's name was spelled as "Ailsey" in the 1860 Census, listed with her father and mother Abud Harrison "Bob" OUTLAW and Alice Jane "Mammie" WILLIAMSON had the following children:

190 i. P.E. OUTLAW was born on 6 Jan 1868. He died on 11 Aug 1868.
191 ii. M.P. OUTLAW was born on 21 Sep 1872. He died on 24 Sep 1874.
+192 iii. P2 Joseph Benjamin Outlaw
193 iv. G.S. OUTLAW was born on 4 Nov 1877. He died on 1 Oct 1886.
194 v. M.L. OUTLAW was born on 4 Mar 1880. He died on 8 Sep 1882.
195 vi. Mary Jane OUTLAW was born on 14 Aug 1901. She died on 1 Feb 1906.
He was married to Elizabeth EVINS (daughter of John R. EVINS) on 6 Mar 1859 in Pike County Alabama. Abud Harrison "Bob" OUTLAW and Elizabeth EVINS had the following children:

+196 i. P119 Elizabeth "Hassie" Outlaw