Outlaws Bridge Road - Duplin County
---
13. EDWARD OUTLAW, Third, (I 1 -10) owned large tracts of land on Flat Swamp, Horse Swamp and Chowan River, in Bertie County, as shown by deed from "Edward Outlaw, gentleman, to my son Edward Outlaw," and other conveyances. The lands in Bertie County were sold to Thos. Hallowell in 1742, and he lived for a short time in Johnston County.
During the years 1745, 1746, 1747 and 1748 he received several grants for land in New Hanover County, in that part of it which is now Duplin County, where lived until his death in 1759.
The place of his residence was on North East River at what is known as the George Outlaw old place at Outlaw's Bridge, in said County, deeded to him by Constantine Whitfield. His original Will is in Duplin County records dated 1759, and in 1760 Patience Outlaw, widow, filed an inventory of the estate which included horses, cattle, implements, and one large church Bible, one small Bible, one common prayer book, one testament and one psalmster. His wife was Patience Whitfield of Bertie County, daughter of Elizabeth (Goodman) and William Whitfield.
Capt. James Outlaw Monument - Outlaw's Bridge - Duplin North Carolina - May 5 1936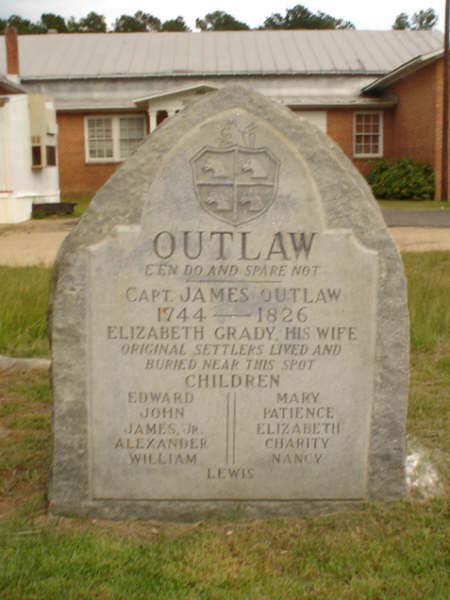 40. Captain JAMES OUTLAW, (13-11-10) of Duplin County, was born 1744 and died April 22, 1826. His original Will is in the public records for Duplin County, North Carolina, dated 1826. He was a soldier in the Revolution, serving in the Company of his brother, Captain Alexander Outlaw, in an "expedition against the insurgents", 1776, and later as a Lieutenant (N.C. Revolutionary Army Accounts Vol. V, p. 19, folio 1);
Commissioner of the town of Sarecta (never developed), Duplin County's first established town; Captain in Duplin militia service 1787 and 1788, as shown by tax records from Captain Outlaw's District, and was for nearly thirty years, a Justice of the County Court of Pleas and Quarter Sessions, serving a part of that time as Chairman of said Court. He built the crossing over North East River, which has since been known as Outlaw's Bridge, in Duplin County.
His wife, who was Elizabeth Grady, daughter of Mary (Whitfield) and John Grady, was born February 9, 1750, and died September 3, 1830. Her will is in Duplin County records.
---
NCSU Libraries' Rare and Unique Digital Collections
Façade, Benjamin Franklin Grady School
Grady, Benjamin Franklin School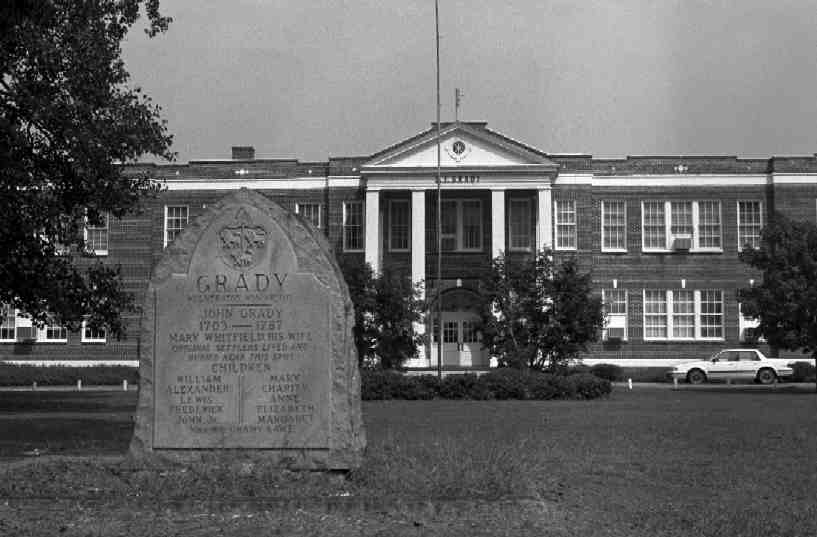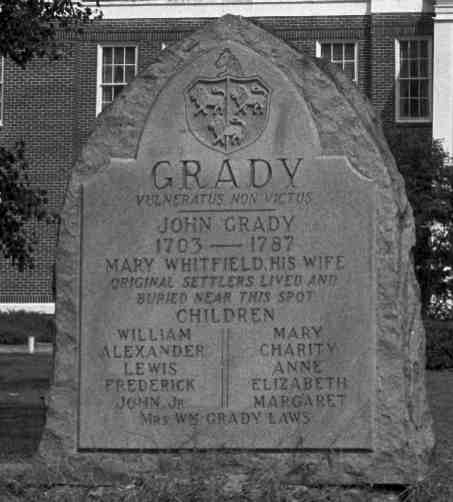 ---
Wayne County, NC - Heritage Series

Reprinted with permission of the Mount Olive Tribune and cannot be
reproduced without permission.

The Grady Family of Duplin

"Our Heritage"
By Claude Moore

The Grady name was originally O'Grady and at an earlier time it was Gradha,
meaning noble. The O'Grady's were Celtic, came originally from Spain and
were descendants of King Milesius of Spain. In Ireland they were descendants
of King Brian Boru (1002 A.D.) who was king of Ireland and was killed by the
Vikings.
The first Grady to come to America was William Grady of Donegal
County, Ireland, who came to Virginia and then to Bertie County, N.C., in
1717 and much later to that part of Craven County which became Lenoir.

William Grady married Anne Barfield, the daughter of Richard Barfield of
Virginia, and had at least one son John Grady (1710-1787). John Grady was
married in 1733 to Mary Whitfield, the daughter of William and Elizabeth
Goodman Whitfield of Dobbs County. This William Whitfield was the forebear
of all the Whitfields in Wayne and Duplin, so that makes all the Gradys and
Whitfields kin. John Grady received a grant of land in 1739 on Burntcoat
Swamp on the Northeast River and the present B.F. Grady School in on this
tract.

John and Elizabeth Grady had the following 11 children: Mary Grady who
married Henry Goodman, lived on the Neuse River and had six children;
William Grady (1735-1803), soldier of the American Revolution, who married
and had nine children, two of whom married Outlaws; John Grady, who may
have been the John Grady who was the only patriot killed at the Battle of
Moore's Creek Bridge February 27, 1776, married and had four children;
Charity Grady who married a Mr. Herring and had six children; Anne Grady
who married a Mr. Croom and had two children; Alexander Grady (1744-1821)
soldier of the American Revolution, married Anna Thomas (1746-1825), lived
in Duplin and had 10 children; Frederick Grady (1753-1818) soldier of the
American Revolution who married Elizabeth Durham, lived in Duplin, had 12
children; Lewis Grady, no record; Elizabeth Grady (died 183O) who married
Captain James Outlaw; a daughter who married William Laws; and Margaret
Grady who married Isaac Dawson.

The grandchildren of John and Elizabeth Grady married into the Outlaw,
Whitfield, Kornegay, O'Daniel, Barfield, Herring, and Williams families.
Some of the decendants settled in Duplin and others moved to Tennessee,
Kentucky, Georgia, Alabama, and some other states.

Many of the descendants come back to the Grady-Outlaw family reunion.
One of the descendants, Durham Grady (born 1776) married Susan Slocumb,
the daughter of the famous Mary Hooks Slocumb of Mount Olive who is believed
to have made the herioric ride to Moore's Creek Battle in 1776. Several of
the Grady family fought in the War of 1812, and many served in the
Confederate Army.

One of the descendants, William Henry Grady (1841-1921), farmer and
school master, married Emmaline Simmons and lived at plantation called
"Waterloo" near Albertson, and they were the parents of Albert Sidney Grady,
lawyer and mayor of Mount Olive, Zebulon Vance Grady, Emmaline Grady,
Raphael Semmes Grady, Foutaine Maury Grady, Preston A. Grady, Maud Grady,
and Malcolm Laurens Grady, all deceased. The first four were named for
Confederate heroes.

Another distinguished member of the Grady family was the late Honorable
Benjamin Franklin Grady (1831-1867), a son of Alexander Outlaw Grady
(1800-1867) and Anne Sloan Grady. Two of his brothers, William and Lewis,
were killed in the Confederate Army. B.F. Grady was graduated from the
University of North Carolina and was teaching at the University of Texas
when he joined the Confederate Army.

He married 1) Olivia Hamilton 2) Mary Charlotte Bizzell of Clinton. He
had one son by his first wife and 11 children by his second wife. All are
now deceased. The oldest son by his second wife was the late Judge Henry A.
Grady of Clinton. B.F. Crady was known far and wide for his great mind and
scholarship. He was a teacher, county supt. of schools of Duplin, and a
member of Congress, 1890-1894. While living in Turkey, N.C. in 1898, he
wrote the book "The Case of the South Against the North."

The Gradys have been great friends of our family all during the years, and
on two occasions I have made the address at the Grady-Outlaw reunion.

(Source of data: From the late Ben Grady and Judge Henry A. Grady)

==============================================================

USGENWEB NOTICE: In keeping with our policy of providing free
information on the Internet, data may be used by non-commercial
entities, as long as this message remains on all copied material.
The electronic pages may NOT be reproduced in any format for profit
or for presentation by other persons or organizations.

Persons or organizations desiring to use this material for purposes
other than stated above must obtain the written consent of the file
contributor, and contact the listed USGenWeb archivist with proof of
this consent. The submitter has given permission to the USGenWeb
Archives to store the file permanently for free access.

File contributed for use in USGenWeb Archives by
Guy Potts <gpotts1@mindspring.com>
---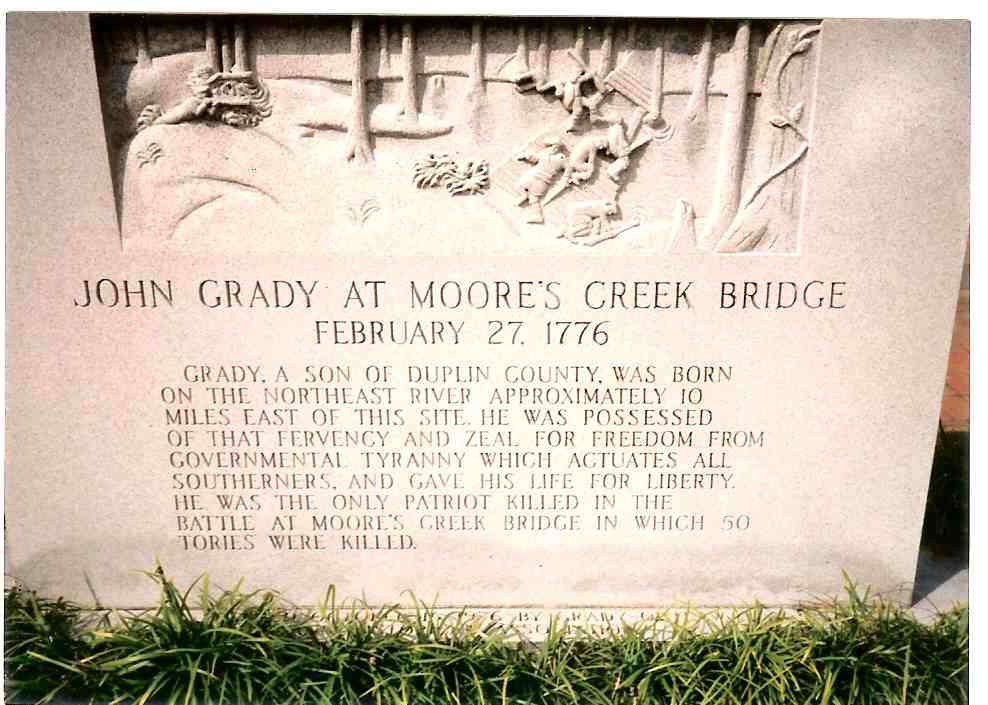 John Grady
Grady, John

JOHN GRADY
NC MINUTEMAN
1ST NC KIA 1776
DUPLIN COUNTY
"PVT JOHN GRADY , A SON OF DUPLIN COUNTY, WAS BORN ON THE NORTHEAST RIVER APPROXIMATELY 10 MILES EAST OF THE MOORE'S CREEK BRIDGE. HE WAS POSSESSED OF THAT FERVENCY AND ZEAL FOR FREEDOM FROM GOVERNMENTAL TYRANNY WHICH ACTUATES ALL SOUTHERNERS, AND GAVE HIS LIFE FOR LIBERTY AT THE BATTLE OF MOORE'S CREEK BRIDGE IN WHICH 50 TORIES ERE KILLED"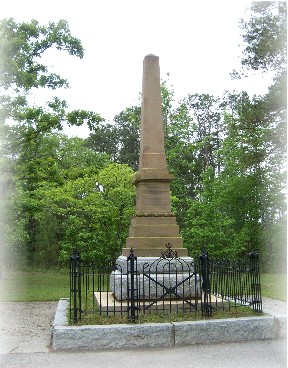 Welcome to Sanford, NC, and the Private John Grady Chapter, NSDAR
"Here lies the remains of Private John Grady of Duplin County. He fell bravely fighting for his country. The first Martyr in the cause for freedom in North Carolina and the only Whig killed in this battle." February 27, 1776.
---
Outlaws Bridge - Duplin County, North Carolina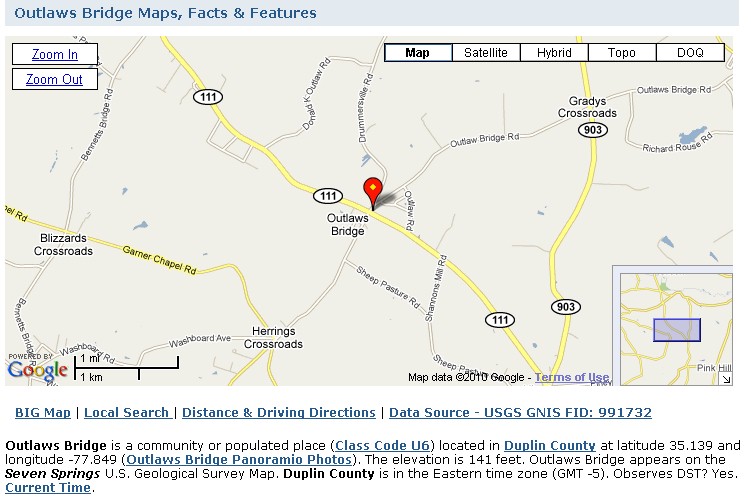 Outlaws Bridge is a community or populated place (Class Code U6) located in Duplin County at latitude 35.139 and longitude -77.849 (Outlaws Bridge Panoramio Photos). The elevation is 141 feet. Outlaws Bridge appears on the Seven Springs U.S. Geological Survey Map. Duplin County is in the Eastern time zone (GMT -5). Observes DST? Yes
Outlaws Bridge Rd. Albertson, NC Duplin County
http://ftp2.census.gov/geo/pvs/bas/bas09/st37_nc/cou/c37061_duplin/BAS09C23706100000_003.pdf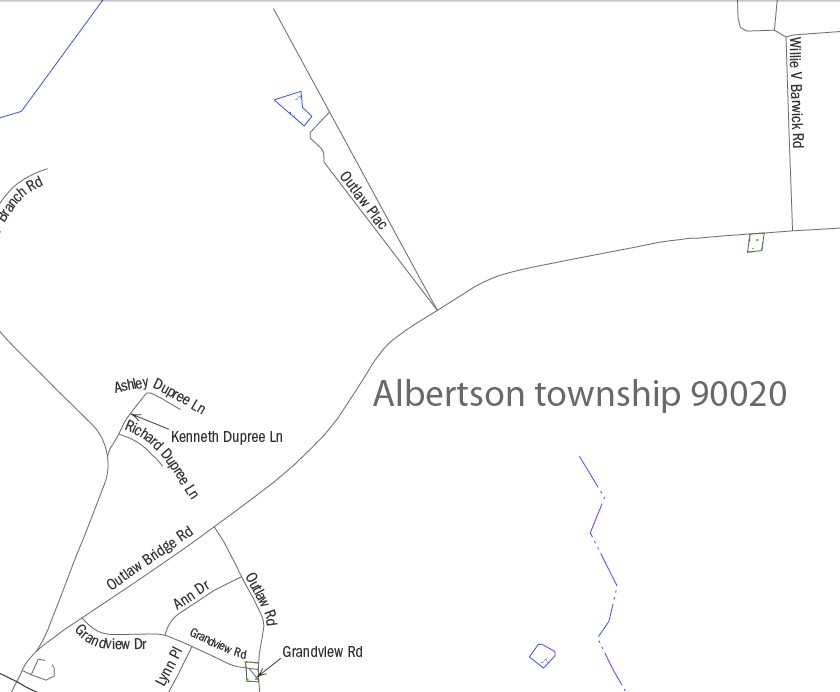 Outlaw Bridge Community - CM Outlaw Crossroads - Kornegay - Mattie Gradys Store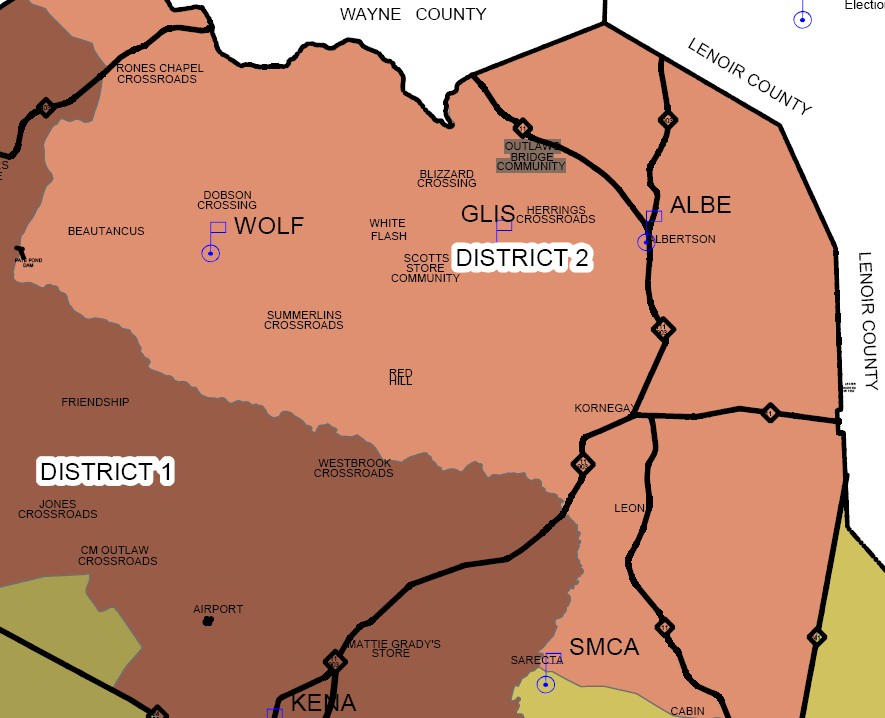 ---
The Woodpile, Civil War Records, Biography of Jesse James Summerlin
In January 1875, testimony indicates that Jesse's Mother (age 62) and one of his sisters (age 35) lived near Northeast Bridge. This could have been the old bridge that crossed the Northeast Cape Fear River about 10 miles northeast of Kenansville. It was located about 2,000 feet southeast of the junction of NC Hwy 11 and SR 1501 (Westbrook) (also Hwy 903), near the mouth of Burn Coat Branch. The bridge was about a mile southwest of the town of Kornegay and was also called Kornegay's Bridge. However, because many bridges crossing the Northeast Cape Fear River were called "Northeast Bridge," this bridge mentioned in the pension testimony could have been what is now "Outlaw's Bridge," which is much closer to White Flash.
North Carolina - Duplin County map
Post Offices - Outlaws Bridge Duplin County
Outlaw's Bridge, Duplin Co – about 20 miles SW of Goldsboro
Unitarian Universalist Congregational Resource Files
Seven Springs, NC. Outlaws Bridge Universalist Church. bMS 902/37(12)
OUTLAW'S BRIDGE UNIVERSALIST CHURCH, 4408 N.C. 111 N., Seven Springs, 919-658-5267. 11 a.m. Sunday, special music service with Jimmy Merritt, pianist and classical guitarist; and Michael Mozingo, singer
Hammitt Diggs Outlaw, Sr. - Outlaw - Family History & Genealogy
Hammitt Diggs Outlaw Sr. born June 18, 1888,St Bethlehem, Tenn.
This family of Outlaws came down to N. C. from Virginia via Bertie County. They settled in a community that today is called Outlaws Bridge community. I was reared near there. My direct lineage and apparently yours moved to Hopkinsville, Kentucky in the 1840s ... Many still live there but as you know many finally wound in the Center Hills area of Florida
---
History of the Lost State of Franklin - Samuel Cole Williams
Alexander Outlaw was born in Duplin County North Carolina in 1738
...
Alexander Outlaw is depicted as a man of large frame, six feet highm blue eyes, sandy hair and red mustache. He died in 1826 and was buried in Cahuba, Alabama, where he was at the time of his death looking after land purchaces in that region.
...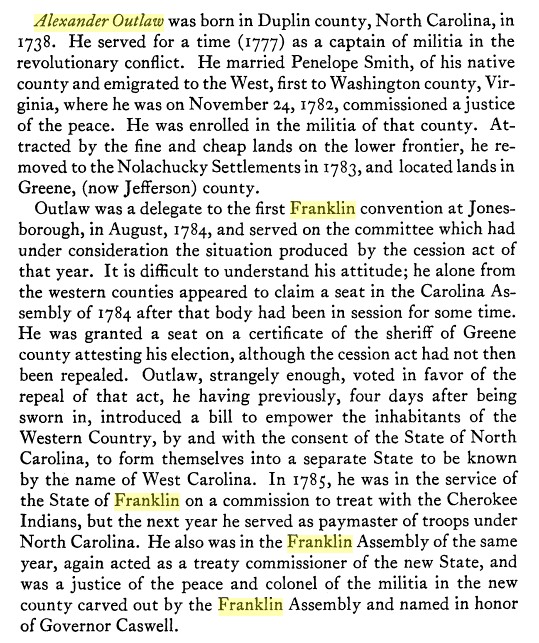 | - - - - -
A History of Tennessee and Tennesseans The Leaders and Representative Men - Will Thomas Hale, Dixon L. Merritt
The Outlaws, From North Carolina

Alexander Outlaw's name appears quite frequently in early Tennessee history. Because of its uncommonness in most communities, the reader remembers it long after having seen or heard of it. whence the name?

On Sept 2, 1896, this appeared in the London Daily Telegraph: "It is pleasant to learn that our correspondent was misinformed when he stated that Mr. George Outlaw, who recently died in South Australia, was the last male descendant of King Edgar Atheling, whose political vicissitudes led to the assumption by his posterity of this significant cognomen. Settlers from Limpsfield, Berkhamstead, and Kingston-onThames, and elsewhere, testify to the fact that there are many Outlaws, some of them doubtless unaware of the blue-blood coursing in their veins, and that there is little likelihood of the royal line becoming extinct for many generations to come."

To this old family belong the Outlaws of Tennessee. The founder of the American family, Alexander Outlaw, came to this country and settled in North Carolina in 1635 [ Where did this idea come from ? 1635 is the date of the "Great Migration" of puritans and others to Virginia - I have yet to find a definite Outlaw that early - ] , about a score of years after the first permanent settlement of the English in America. The family was prominent in the early annals of that state, two of them serving with distinction in Congress.

A descendant of this North Carolina family was Alexander Outlaw, born there in 1738. In 1783 he settled in that part of Greene county which is now Jefferson county, Tenn. He at once became prominent as a lawyer and statesman.

He had four daughters and one son.
The daughters married Judge Joseph Anderson, Joseph Hamilton, Paul McDermott and Judge David Campbell, all well known men of the time.

From Paul McDermott and his wife was descended the wife of J. B. Cooke, once Judge of the Supreme Court of Tennessee. From Joseph Anderson and his wife descended Alexander Anderson (born Nov. 10, 1794, and died-in Knoxville May 23, 1869), who was elected United States senator from Tennessee in 1840, and who was afterwards a judge in California and framed the State constitution.

Alexander Outlaw, head of the Tennessee branch, died in October, 1825.
---
WHEN BIG SANDY SWAMP WAS NO MAN'S LAND
During this time Wesley King gathered into a Company every boy, old man, and wounded soldier at home recuperating south of Big Sandy Creek who could bear arms and kept patrols at every crossing holding back the Yankees who would attempt to cross. It is said that at Lightwood Knot Bridge, at Stephensville, a mob of them attempted to cross but that Dr. J.B. Duggan, armed with a shotgun, fired into them putting all of them to flight. As a measure of safety it was deemed necessary to destroy this bridge and fire was applied to it. Throughout Lord's District the citizens were suffering severely from the pillaging Yankees. Everything that could be was stolen and carried away. So great were the injuries and insults inflicted that at the house on the road leading from Ebenezer to Outlaw's Bridge, just west of its junction with the Irwinton and Ball's Ferry road, a Wilkinson County man came upon two Yankees attempting to rob the helpless inmates. He opened fire killing one of the Yankees and the other fled. A peculiar thing about this killing is that the credit for doing so has been given to at least three separate and distinct individuals, neither of whom, so far as the writer has ever heard, ever denied being the perpetrator. We must therefore consider it an unsolved mystery as to the man who killed this yankee who was buried near Ebenezer Church and whose body after the close of the war was disinterred and sent to his native State.
---
1709 - Palatine Immigrant List - The New York genealogical and biographical record - New_Berne Colonists_New_York_pdf (see page 49)

Swiss and Palatines to New Bern - Search: Cunitz / Koonce pg 93 - Hornigh / Kornegay pg 49 - Titschke / Teache pg 164
What can be gathered as the untold story is that Colonel Thomas Pollock was responsible for the Indian uprising against the New Berne Colony that he later ends up owning and controlling.
John George Hornigh (Kornegay) with sons and daughters: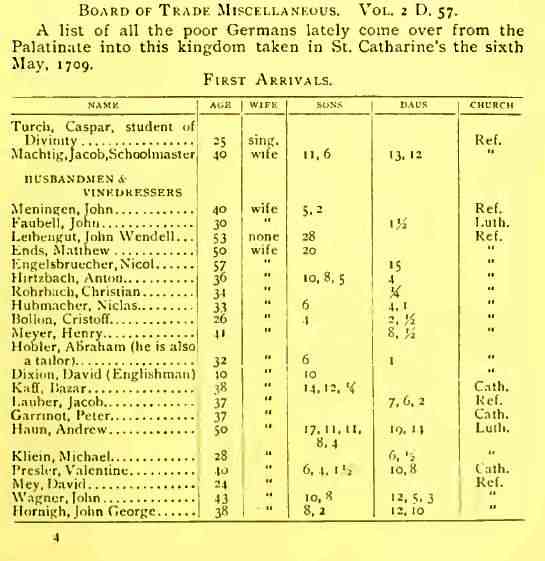 John Titschke with son and daughter: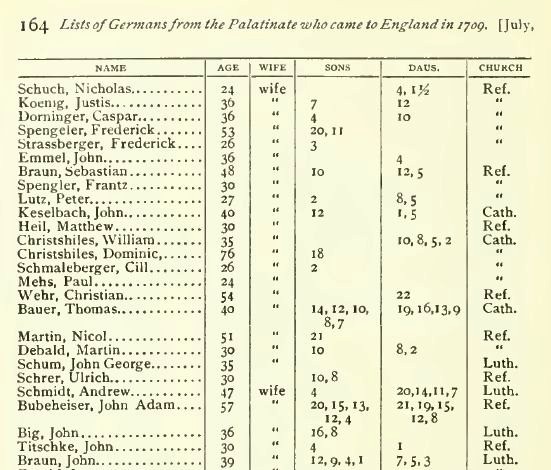 John Cunitz with sons and daughter: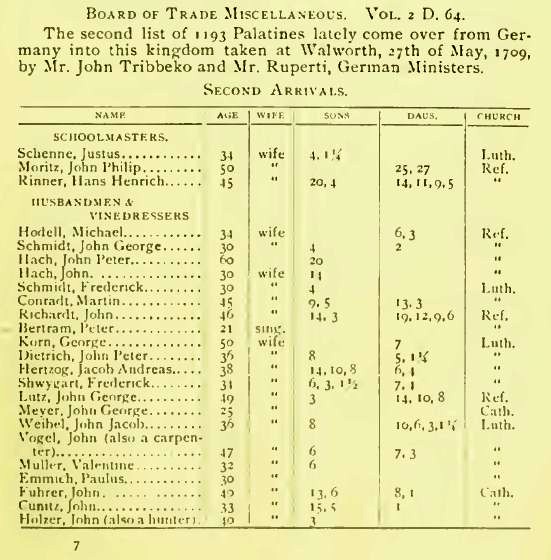 Carolina Governors - Thomas Pollock - Thomas Pollock, son of Thomas Pollock of Bal-Gra, was born in Glascow, Scotland, May 6, 1654, and he died in North Carolina on August 30, 1722.
He came to the Carolina Colony in 1683 as a deputy for one of the Lord Proprietors, Lord Carteret, afterwards the Earl of Granville. Pollock settled in our present county of Bertie and in time became one of the largest property owners in the Chowan district. His home, situated on the shores of this county, over-looking Salmon Creek was called Bal-Gra, after his father's residence.
After his arrival, he soon became one of the most prominent and influential men in the colony. For years he was to be conspicuous for his wealth and intelligence. A long feud existed between him and Edward Mosely and in all civil turmoil they were the real leaders of the opposite factions.
When Edward Hyde came to Albemarle in 1710 as Deputy Governor, he accepted the hospitality of Thomas Pollock and other outstanding residents of the district. In fact, the first Assembly called by the new Governor met at Pollock's home.
The short administration of Hyde's, however, proved to be a turbulent period. This was the time of the Cary Rebellion in which the disputed authority of the Governorship was involved. Pollock, naturally, gave his support to Hyde and the crown. The Rebellion was put down in 1711 and Cary captured. He was never brought to trial, however, due to the probable lack of evidence.
To Pollock, too, goes much credit for his support of the Baron Von Graffenried and his establishment of the Swiss Colony at New Bern. Von Graffenried attempted to settle his colony under most adverse circumstances. This was also during the time of the Cary Rebellion and the Indian wars which soon followed.
Von Graffenried exhausted all of his funds in his efforts and was unable to secure any aid from the company in Bern which he represented. Some individuals in other colonies supplied goods, but the chief creditor of the enterprise was Pollock who furnished both finances and goods. Naturally the heavy indebtedness to Pollock was of great influence when Von Graffenried, as leader of the largest body of immigrants to come into Carolina, allied himself with the Hyde and Pollock faction in putting down the Cary Rebellion.
The uprising of Cary and his followers was immediately followed by war, with the Tuscarora Indians and epidemics of yellow fever.
Governor Hyde fell victim to the fever and died August 8th, 1712.
Pending the appointment of a successor by the Lord Proprietors, the North Carolina Council chose an acting Deputy Governor. Thus, it was that Col. Thomas Pollock was elected to the Governorship, four days after the death of Governor Hyde.
1710 - Blackbeard's Origin - Citizens Of Bern Switzerland, Landing Here With Swiss And Palatines, Founded New Bern, 1710
1711 - New Berne - Palatine Tuscarora Indians Massacre - George Kornegay - John George Kornegay's family, only his son George survived.

George Kornegay, along with another young boy, George Koonce, were taken hostage by the Indians and held until the spring of 1712. Both George's were then apprenticed to Jacob Mullen (Miller)* (see note), clerk of the Craven County Court until they were of age. Jacob saw to it that these orphaned Palatine boys received their fair share of the land promised earlier to the colonist in the De Graffenreid expedition. -

Elizabeth Outlaw, married William Kornegay, one of the sons of George Kornegay, of Craven County, N.C. - Descendants of John George Kornegay
Kornegay Reunion in Duplin County, NC - Kornegay's Bridge area -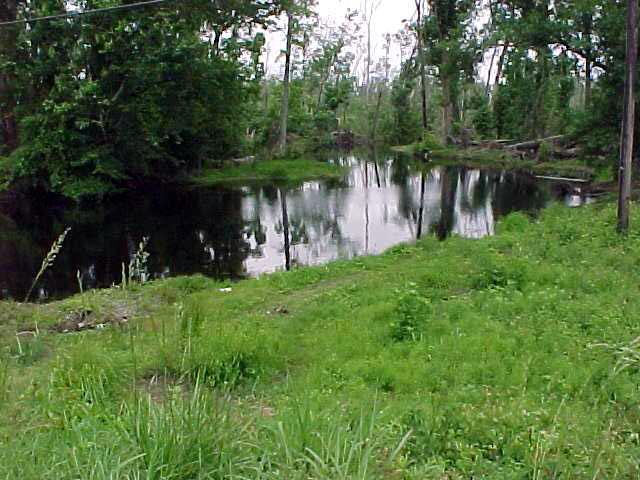 This is a tributary of the Cape Fear River near the location of the original Kornegay's Bridge and is just down the road from "Waterloo".
The bridge itself no longer exists, but we believe that this is the tributary that it crossed. The Cape Fear River drains the entire area and looking at the marshy land, it's easy to see why a bridge was necessary for the local economy to function. The course of the river may have changed over the intervening centuries, but this is just the way our earliest ancestors would have seen it. Their livelihood depended on it as it was the only means they had of transporting the turpentine they produced to the ports along the Carolina coast.
---
1710 Society DeGraffenreid and Allied Families in America

Christopher de Graffenried struggled gallantly to pay off the debts that his illustrious but impecunious father left behind in the New World. One source of income drew upon the culture and refinement that attended his upbringing as a member of a Swiss patrician family. Christopher, with Barbara's energetic help, served as a colonial dancing master. From their town house in Williamsburg and their plantation on the James River in Prince Edward County, Virginia, the enterprising couple gave dancing lessons and instruction on etiquette and proper conduct for ladies and gentlemen of society.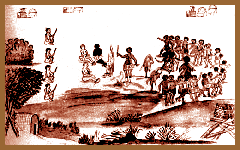 Graffenried's Drawing of the Tuscarora Encampment Where He was Held Prisoner in Fall 1711 (The original drawing is housed at the Burgerbibliothek Bern, as are many documents and objects relating to Graffenried history.)

After the Indian captivity of Baron Christoph (Christopher's father) and the Indians' concomitant uprising, the Baron's New Bern colony was in the proverbial "dire straits," with dwellings and livestock destroyed and scant supplies.

Gov. Spotswood urged Christoph to travel to Europe to confront the financial backers who were seemingly oblivious to the needs of the colonists, despite their pledge to provide for them. On Easter Day in 1713 Christoph departed on horseback for New York to catch a ship.

In London, he tried unsuccessfully to present his supplication through the Duke of Beaufort, the first Lord Proprietor and Palatine of North Carolina. The duke died suddenly on 25 July 1714 and Queen Anne, herself, died a week later.


Upon arriving in Bern, the Baron's pleas for his colony were treated with contempt. Todd (1920) says: "..his efforts for his colony did not stop even after he reached home.... Too poor to sue his company for their breach of contract, he next tried to have a commission appointed to investigate and hear his proposition, but this was refused. His efforts to interest others failed, and at last, to his own regret, he had to abandon his colony. The story of the rest of his life is soon told. He was dependent upon his father for a support which was not cheerfully granted."
---
The Pollock Family will go on to become the largest land owner in North Carolina.... but the Pollock male line died out. Though not Tories (Royalists) they seemed to keep out of the Revolution completely while retaining their plantations.
Bertie County, NC - HISTORIC HOMES OF BERTIE COUNTY - BALL GRA
The Bertie Chronical. Vol 1. #2. Oct 1953. Used with permission of Harry Thompson
Thomas Pollock came to this country in 1683 as a deputy for Lord Carteret one of the Lord Proprietors. He was born in Glascow, Scotland, May 6, 1654, the son of Thomas Pollock of Bal-Gra. He settled in Bertie and called his plantation Ball Gra after his home in Scotland. Leslie Newsome says that Thomas Pollock of Bertie had 22000 acres of land besides 10 plantations.
When Governor Edward Hyde (cousin to Queen Anne) came to Carolina in 1710 he accepted the hospitality of Thomas Pollock and the first assembly called by Governor Hyde met at Pollock's home. During the Cary Rebellion which was then in progress, Pollock naturally gave his support to Hyde and the Crown.
To Pollock, too goes much credit for his support of the Baron von Graffenried and his establishment of the Swiss colony at New Bern. This was also during the Cary Rebellion and the Indian Wars which followed. Von Graffenried exhausted all of his own funds in his efforts and was unable to secure any aid from the company in Bern which he represented. Pollock came to his aid by furnishing both finances and good.
The Cary Rebellion was put down in 1711 to be immediately followed by war with the Tuscarora Indians and epidemics of yellow fever.
Governor Hyde fell victim of fever and died Sept 8, 1712. Pending the appointment of a successor by the Lords Proprietors, the North Carolina Council chose an acting govenor. Thus it was that Thomas Pollock was elected Governor four days after the death of Gov. Hyde. Poloock proved to be a man of force and decision. The war with the Indians lasted well into his administration as governor, but Bertie did not suffer as severely as some counties because of the friendship and influence of Governor Pollock with the Tuscarora Chief--Thomas Blunt.
Pollock remained in office until the arrival from England of Governor Eden in 1714, after which he continued most active in the affairs of the colony. He was a member of the General Court and also of the Governor's Council. Upon the death of Gov. Eden in March 1722, Col Pollock was again elected to fill the vacant post. Pollock's second administration as governor, though, lasted only a few months, for he died Aug 30, 1722.
As when he first came to Bertie he was still Lord Carteret's deputy. He was interred with his wife and other members of his family at Bal-Gra, where he lived and died. About 1850, the Vestry of St. Paul's Church in Edenton, removed his remains and placed them in the cemetery there.
Augustus Holley obtained possession of Ball Gra in 1855, and it was left in the will to Mary Isabel Woodley who sold it to Dr. Wiliam Capehart who left it to his daughter Clara C. Harney. Mr. Steve Askew purchased it from the Harneys and left it to its present oweners, the Cooper Brothers.
Pollock died on August 30, 1722 and was buried next to his first wife at his plantation; their remains were later moved to St. Paul's Episcopal Church in Edenton
THOMAS POLLOCK - Bertie County, NC
...
Thomas Pollock had been married twice. His first wife was Martha Cullen, daughter of Thomas Cullen, who was a member of the Governor's Council in 1670. She was born in Dover, England in 1663 and was the widow of Robert West. Pollock's second wife was Ester Sweetman of Maryland. Her previous husbands had been John Harris and Col. Wm. Wilkerson. Pollock had no issue by his second wife. His first wife, Martha Cullen, he was the father of Martha Pollock, who married Thomas Bray of New Kent County, Virginia; Thomas Pollock, Jr., who married Elizabeth Sanderson; Cullen Pollock who married Frances West; George Pollock, who married, first, Sarah Swann and second, Elizabeth Whitmell. George Pollock had no issue by either marriage. The children of Cullen Pollock and wife, Frances West, were: George Pollock, Cullen Pollock (both died without issue); Martha Pollock, who married first Stevens Lee, and second, Clement Crock; Frances Pollock, who marred Dr. Robert Lenox.
Thomas Pollock, Jr. and his wife, Elizabeth Sanderson, were the parents of three sons, namely, Thomas, Cullen and George Pollock.
Cullen and George of this marriage also died without issue.
Thomas, son of Thomas Pollock, Jr., married Eunice Edwards, daughter of the renowned New England minister, Jonathan Edwards. They were the parents of Thomas Pollock, George Pollock, Elizabeth Pollock, who never married, and Frances Pollock, who married John Devereux.
Eunice Edwards by another marriage was the mother of Sarah Pierpoint Hunt, who married John Fanning Burgwyn. Thus Sarah Hunt Burgwyn and Frances Pollock who married John Devereux were half sisters.
An interesting point of law was determined in 1841 when the children of the sisters of the half blood brought an action in the North Carolina Courts concerning the inheritance of certain Pollock property. The out-come of the trial was that heirs of the half blood inherit equally with heirs of the whole blood.
The two sons of Thomas Pollock and wife, Eunice Edwards, died without issue and thus the male line of Governor Pollock passed out of existence and the surname Pollock became extinct.
---
Salmon Creek And Eden House Seedbed Of The Colony in Windsor, North Carolina
Along the banks of the Chowan River and Salmon Creek, the seeds were planted for the colony and state of North Carolina. From these roots in the 1600s emerged the refined plantation life of the ruling colonial gentry in the 1700s, made possible by the displacement of Indians and with slave labor. The earliest settlers in this region, largely natives of the British Isles, transplanted their folkways, building techniques, agricultural methods, and adventurous spirit to these shores.
...
Thomas Pollock, who had been jailed by Sothel, served as acting governor, 1712-1714 and again in 1722. His plantation house, "Balgra," was two miles south on the north side of Salmon Creek. There he and Hyde withstood a small naval attack in 1711 during Cary's Rebellion.
* Charles Eden, governor from 1714 to 1722, purchased the property in this immediate vicinity in 1719 and constructed "Eden House" a few yards north. His home in time became an elegant center of social life for the Albemarle aristocracy. Following his death in 1722, the "Town on Queen Anne's Creek" was renamed Edenton and soon supplanted this area as the social and political center.
...
Over time the colonial estates along the Chowan River and Salmon Creek have been lost to shoreline erosion, fire, or decay. The area south of Salmon Creek, owned through most of the 1700s by three generations of the Duckenfield family, was acquired by the Capeheart family in 1829 and afterwards known as "Avoca." Pollock's grave at "Balgra" and those at Eden House were moved to Edenton around 1890.

In 1996, prior to construction of the improved US 17 bridge, archaeologists excavated an area a short distance southeast uncovering remnants of two houses constructed in the late 1600s and later owned by the Eden family.