Outlawe Research Journal - Page 7
---
---
New information on Capt. John Outlaw:
1684 - Ship Lucy - HBC - Captain John Outlaw
1685 - Ship Success - HBC - Captain John Outlaw - Lost
1688 - Ship Mary - Sponsor/Owner - John Abraham / John Outlaw - Wrecked
| - - - - - -
Seafaring Vessels in, or Voyaging to, Hudson Bay and Strait, Including Journeys into Ungava Bay, Foxe Basin, and James Bay, 1508–1920

Introduction:

The numbers in the source lists correspond to the numbers in the 6th column of the ship lists (headed Source #). This list of sources is not definitive. The sources here supply evidence supporting, or qualifying, the inclusion of a vessel — and details of its owners, masters, and voyages — in the Ship List pages of doing canadianhistory 2.0. The entries may be expanded upon on an ongoing basis. They are also subject to correction: details might have been inadvertently scrambled in the act of posting. I would welcome notification of any errors or omissions.
36 – Colleton
Hutcheson, "Cobbie, Walsal"; G.E. Thorman, "Outlaw, John"; and Alice M. Johnson, "Grimington, Michael," [d. 1710] DCB.
46 – Craven.
Johnson, "Bond, William"; Thorman, "Outlaw, John"; and Bernard Pothier, "Le Moyne d'Iberville (from a fief held by his father's family, near Dieppe, in the province of Normandy) et d'Ardillièrs (from a property he acquired in the province of Aunis near Rochefort), Pierre," DCB
49 – Bachelor's Delight.
Hutcheson, "Gillam, Benjamin"; Thorman, "Outlaw, John," DCB.
50 – St. Pierre & Ste. Anne.
F. Grenier, "Allemand, Pierre"; Nute, "Radisson, Pierre-Esprit"; and Thorman, "Outlaw, John," DCB.
56 – Lucy.
Thorman, "Outlaw, John"; and K.G. Davies, "Kelsey, Henry," DCB.
1684 - Ship Lucy - HBC - Captain John Outlaw
57 – Happy Return.
Johnson, "Bond, William"; and Thorman, "Outlaw, John," DCB.
58 -
Edward H. Borins, "Bermen de La Martinière, Claude de"; Victor Tremblay, "Silvy, Antoine"; Grenier, "Allemand, Pierre"; Hutcheson, "Lucas, Richard"; and G.E. Thorman, "Smithsend, Richard," and "Outlaw, John," DCB.
60 – Success
Thorman, "Outlaw, John," DCB
1685 - Ship Success - HBC - Lost - Catptain John Outlaw
70 – Yonge.
Johnson, "Bond, William"; Thorman, "Outlaw, John," DCB.
72 – Mary.
Johnson, "Bond, William," and "Abraham, John"; and Thorman, "Outlaw, John," DCB.
1688 - Ship Mary - Sponsor/Owner - John Abraham / John Outlaw - Wrecked
---
Found a reference to Lord Outelas in a French Canadian Biography...
1759 - Mr Outelas - Fort Carillon - returned from a party on Fort Lydius where he took two prisoners
Le maréchal de camp Desandrouins, 1729-1792 guerre du Canada 1756-1760 guerre de l'indépendance am
Desandrouins retourne à Carillon. — En y allant, il visite les bords du lac Champlain.
— Il aide à l'expédition de Louviou. — Il est nommé chevalier de Saint-Louis. - 1759.

Desandrouins returns to Carillon. - By going there, he visited the shores of Lake Champlain. - It helps to shipping Louviou. -
He was appointed Knight of St. Louis. - 1759
| - - - - - - -
« A 4 heures du soir arrivé à Carillon, où j'ay trouvé M. Outelas revenu depuis peu d'un parti sur le fort de Lydius où il a pris deux prisonniers
qui rapportent que l'on avoit donné ordre à quelques troupes de s'approcher de cette frontière, mais qu'elles avoient reçu contre-ordre
pour demeurer encore dans leurs quartiers. Il disent aussi qu'il y a à Lydius un tourneur toujours occupé à faire des bois de fusées à bombes


"At 4 pm arrived at Carillon, where I have found Mr. Outelas recently returned from a party on Fort Lydius where he took two prisoners who report that they had ordered a few troops to approach the border, but they had received against order- to remain still in their neighborhoods. He also said there is to Lydius turner always busy making wooden rocket bombs
| - - - - - -
DESANDROUINS, JEAN-NICOLAS - Dictionary of Canadian Biography Online

DESANDROUINS, JEAN-NICOLAS, army officer and military engineer; b. 7 Jan. 1729 at Verdun, France, eldest child of Benoît-Nicolas Desandrouins and Marie-Scholastique Hallot; d. unmarried 11 Dec. 1792 in Paris, France
,,,
Desandrouins's contribution to Montcalm's victories of 1757 and 1758 was similarly important. In 1757 he carried out a reconnaissance of Fort William Henry (also called Fort George; now Lake George, N.Y.), and during the siege directed the digging of approach trenches by 300 men who worked night and day in relays under fire. After wintering at Quebec, Desandrouins went to Fort Carillon (Ticonderoga, N.Y.) to help Nicolas Sarrebource* Maladre de Pontleroy reconnoitre, prepare defensive positions, and advise infantry commanders on field fortifications. The speed at which Desandrouins worked under fire during Abercromby's attack of 8 July 1758 earned him the cross of Saint-Louis.
During the winter of 1758–59 Desandrouins prepared appreciations of Carillon and of Canada in general. In 1759, as Bourlamaque's senior engineer, he constructed new defensive positions in the Richelieu River-Lake Champlain sector against Jeffery Amherst's cautiously advancing force. From mid August until March 1760 he was responsible for the construction and command of Fort Lévis (east of Prescott, Ont.). As engineer and aide-de-camp to Lévis, he supervised the digging of trenches during the siege of Quebec, and when Lévis's army was retreating upstream to Montreal, he assisted in delaying actions at Sorel.
Later that year, after the surrender of the colony, Desandrouins returned to France and continued a distinguished career in the engineer corps for another 31 years.
| - - - -
British Fort Nicholson, a simple stockade, was first located here in 1709, followed by Fort Lydius from 1731 - 1745 to protect a trading post built by John Henry Lydius, the first white settler of the area. It was destroyed by the French. British Four Mile Post (1755 - 1760) was located four miles to the north.
Fort Ticonderoga

(1755 - 1796), near Ticonderoga

French Fort Vaudreuil (1750) was originally located here, a small stockade. The French later built Fort Carillon, a stone and timber fort. The British unsuccessfully attacked in July 1758, but finally took it from the French in July 1759. Patriot forces captured it in May 1775 and sent most of its guns to Boston, MA. The British recaptured it in July 1777 but abandoned it in 1780. The Americans did not make much use of the fort later, and it was demolished after it was finally abandoned. Much of the fort was reconstructed privately in 1908. Admission fee.
See also Fort Ticonderoga Tour from A Revolutionary Day Along Historic US Route 4 || Forts Carillon and Ticonderoga from America's Historic Lakes.org
---
More evidence that Utlagi Vikings exiles Norway circa 870-920AD settled in Pembrokeshire (See Research page 6.) Between 866-872 Harold conquerors Norway and parts of Sweden forcing the losers to flee to other islands ....
Pembrokeshire Coast National Park - Viking period
The Viking Period
The Pembrokeshire Coast lay alongside a key route for viking ships sailing from lands to the north south towards the West Country and Europe. And with its many natural harbours and very wealthy monasteries it received its share of attention from the Danish and Norse traders and plunderers.

Unfortunately there is little hard archaeological evidence for viking activities in Pembrokeshire. Our understanding is heavily based on the extent of Norse and Danish placenames | see map historical accounts, a find of a small norse weight at Freshwater West, and some supposition. Interestingly, however, as a modern line of evidence, it has recently been discovered that the occurrence of the gene for blood group A in Pembrokeshire is only matched by parts of Scandinavia. This suggests some settlement by vikings. On the basis of a lack of remains of viking women in the UK, these were probably men, who then took local women as their wives.

Here are some of the events we know about:

860: Danish pirate Hubba camped on coast;
876: Norse possibly over-wintered in Milford Haven waterway with 23 ships;
893: Danes pass Pembrokeshire on way to exploits elsewhere;
902: Norse driven from Dublin may have sought land in Pembrokeshire;
914: Danes again pass by Pembrokeshire;
980-990: Raid near Solva by Olaf Tryggvason and Svein Forkbeard;
987: Celtic house on site of St Dogmaels attacked by Norse;
1080: Hedd and Isaac, sons of Bishop Abraham killed by norsemen during one of ten raids during the period on the wooden monastic settlement at St David's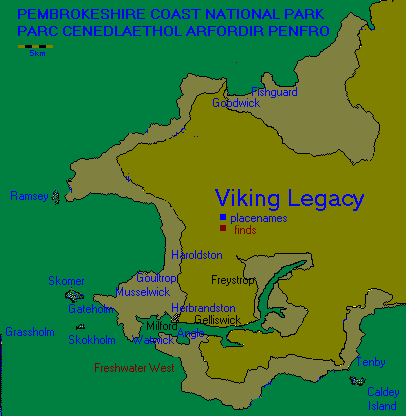 And here the Viking history behind some of the placenames:

Caldey: from Viking name for "Cold island"
Fishguard: Before the Vikings it was known as Abergwaun
Freystrop: named after Viking goddess of fertility, Freya;
Goodwick: "Gud Vik" or fine harbour;
Hubberston: named after Hubba;
Milford Haven: derived from Scandinavian word meaning haven with sandy shores;
Ramsey: believed to be named after norseman Hrafn;
Skomer: "Skalmey" (either on account of its cloven shape or "island of the sword"); and
Skokholm: not unlike Stockholm!

---
1613 - The Visitation of Norfolk for 1613 includes Ralph Outlawe of Little Wichingham (son of Thomas) and Amye his wife, daughter and heir of John Bevis of Little Wichingham, and their children as follows: (1) Thomas Outlawe (to whom was granted arms and crest) and Margaret, his wife, daughter of Francis Cory of Brameston, and their children, Roger, Thomas, Anne and Elizabeth. (2) Amye Outlawe, wife of George Southgate of Reefeham: (3) Mary Outlawe, wife of Thomas Allen of Great Wichingham; (4) Margaret Outlawe, wife of John Goodge of St. James in Suffolk; (5) Elizabeth Outlawe, wife of Robert Allen of Norwich; (6) Ralph Outlawe, and (7) Simon Outlawe.
This Visitation also includes John Outlawe of East Derham, and Margery, his wife, second daughter of William Walshe, by Olive, his second wife, and their children as follows: John, Catherine, Joane and Cecilly. (Harleian Society - Vo. 32)"
Getting back to the Visitation ... Mary and Elizabeth Outlawe marry into the Allen Family who were major merchants in Norfolk (and London). So lets try to track down the Allen family . Some of these Allens' were associated with "the Great Migration" and the Pilgrims....
Mary Outlawe, wife of Thomas Allen of Great Wichingham;
Elizabeth Outlawe, wife of Robert Allen of Norwich
| - - - - - -
1623 - Saint_Kitts - first English colony was established in 1623, followed by a French colony in 1625, Spanish 1629, English 1630.
1624 - Barbados - the English ship Olive Blossom, arrived in Barbados in 1624.
1627 - Barbados - arrival of the first English settlers in 1627–1628 Barbados was under uninterrupted English control during the colonial period
1636 - Sint Eustatius - Dutch West India Company took possession of the island
Here we see that Tombland was a hotbed of Puritanism:
St George Tombland Church - William Bridge

In 1633, William Bridge was appointed Vicar. He held very strong Puritan views, and the church became a centre for extreme Protestant preaching. He was ejected in 1638, and went to Rotterdam. On his return to England in 1642, he ministered at Yarmouth until 1660, and founded what is now the Old Meeting Congregational Chapel.

The first parish register of St. George of Tombland, Norwich (A.D. 1538-1707) by Eng. St. George of Tombland (Church) Norwich
REGISTER OF ST. GEORGE TOMBLAND. Norwich

1659-60.
Mr. Robt. Allen, Alderman.
Mr. Outlawe
| - - - -
The first parish register of St. George of Tombland, Norwich (A.D. 1538-1707) Norwich, Eng. St. George of Tombland (Church)
1658 - Outlaw, Edward, of Norwich - Will. - probate - Archdeaconry of Norwich Probate Records
1659 - Mr. Outlawe - Register St. George Tombland, Norwich (no first name)
1661 - Captain Thomas Outlaw - The Blessing of London - arrives in Boston (New England)
| - - - - -
1590 - Thomas Outlaw : a brother of Robert Davy (Dauy) of Norwich - Thomas Allyn and Stephen Allyn - pg 289

1613 - Elizabeth Outlawe, wife of Robert Allen of Norwich
Well all right - I think I have something. In the time of Cromwell, in 1648-1651 A merchant, Robert Allen of Norwich setup for the transport of Scottish prisoners to Massachusetts (and possibly some to Barbados) . If the 1613 Robert Allen is the same as the 1648 Robert Allen (or son or relative?), then it is possible that his wife Elizabeth Outlawe connections to Captain John Outlawe and connections to shipping to the New World , Also we have other Male Outlawe in Norwich. Another Edward Outlawe who dies in 1658 and another that we don't know the first name of. On top of that we have a Captain Thomas Outlawe sailing between England, Barbados and Boston - Did He know Boston's Captain John Allen ???...
Battle of Worcester - took place on 3 September 1651 at Worcester, England and was the final battle of the English Civil War. Oliver Cromwell and the Parliamentarians defeated the Royalist, predominantly Scottish, forces of King Charles II. The 16,000 Royalist forces were overwhelmed by the 28,000 strong "New Model Army" of Cromwell.
About 3,000 men were killed during the battle and a further 10,000 were taken prisoner at Worcester or soon afterwards. The Earl of Derby was executed, while the other English prisoners were conscripted into the New Model Army and sent to Ireland. Around 8,000 Scottish prisoners were deported to New England, Bermuda, and the West Indies to work for landowners as indentured labourers. Parliamentary casualties numbered in the low hundreds.
Charles II escaped after many adventures, including one famous incident where he hid from a Parliamentarian patrol in an oak tree in the grounds of Boscobel House.
In 1650's there were already many Allen's in Massachusetts and there was one Rev. Thomas Allen Puritan reverend from Norwich who had also traveled to Massachusetts and returned to England at this very time period 1651 So it is possible he helped arranged the use of the Ship John and Sarah which was owned by his younger brother Capt. John Allen. to "another?" relative Robert Allen in Norwich England ... Were any of these Allens direct relatives of any of the Outlawe's? I don't know but there does seem to be a connection... At any rate it shows how the business connections are connected to the history of the time.
Norwich Norfolk's American Connections - The county seat in Norfolk, the city of Norwich has the most American connections in the county. ... In the early seventeenth century, a number of ministers and parishes relocated from the city due to religious conflicts with the Bishop of Norwich. Also under pressure were the Dutch migrants in the city who were seen as 'strangers' to the English. Peter Folger, one of these early strangers who left for America was the ancestor of Benjamin Franklin. Other famous people with a connection to Norwich and North America are ... Thomas Allen
ROBERT SEDGWICK - Robert Sedgwick (1637), the second signer of the original roll of the Company, was a son of William and Elizabeth (Howe) Sedgwick, and was born in Woburn, Bedfordshire, England, where he was baptized May 6, 1613. He married, in England, Joanna --------, who after his death became the second wife of Rev. Thomas Allen, of Norwich, England, previously of Charlestown, Mass. Mr. Allen's first wife was Ann (Sadler) Harvard, the widow of Rev. John Harvard - Taken from the HISTORY OF THE MILITARY COMPANY OF THE MASSACHUSETTS NOW CALLED THE ANCIENT AND HONORABLE ARTILLERY COMPANY OF MASSACHUSETTS. Volume I, 1637-1738.
Thomas Allen (nonconformist) - (1608, Norwich – 21 September 1673) was a nonconformist minister and divine.
Allen was the son of John Allen, a Norwich dyer. He was educated in Norwich and at Caius College, Cambridge, where he took the degrees of B.A. and M.A. in ordinary course.[1] Having received license and holy orders, he was appointed to the parish church of St. Edmund's of Norwich. But he was too pronouncedly evangelical and outspoken. Bishop Matthew Wren silenced him in 1636, together with William Bridge and others, for refusing to read The Book of Sports.
In 1638 Allen passed over as a fugitive to New England. Cotton Mather testified that he "approved himself a pious and painful minister of the Gospel at Charlestown". He remained in New England until 1651, and W. B. Sprague, in his Annals of the American pulpit, enrols his name among the worthies of New England.
In 1651–2 Allen returned to Norwich, where he remained in the exercise of his ministry until 1662. His ministry was twofold — as rector of St. George's, Norwich, and pastor of the congregational church"there (1657). The explanation is that Allen was "preacher of the city" in St. George's parish rather than "rector".
Allen was ejected after the Act of Uniformity 1662. He died 21 September 1673.
| - - - - -
The pioneers of Massachusetts, a descriptive list, drawn from records of the colonies
John Anderson, shipwright, Boston, sold one half of ship John and Sarah to Robert Allen of Norwich, Eng., merchant, 10 (5) 1648. [A.] Had liberty to wharf before his property in 1647.
1648 - John Anderson, shipwright, Boston, sold one half of ship John and Sarah to Robert Allen of Norwich, Eng., merchant - New World Immigrants (Cromwell's Scotch Prisoners transported to Boston on the John and Sarah )
1654 - Admiral Sir William Penn takes Jamaica in 1654
New World Immigrants A Consolidation of Ship Passenger Lists and Associated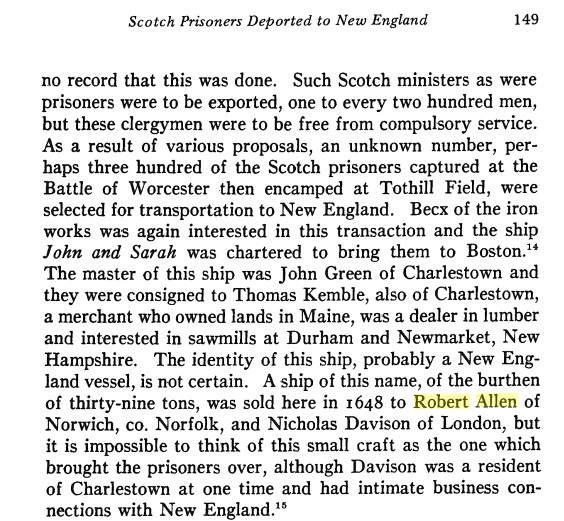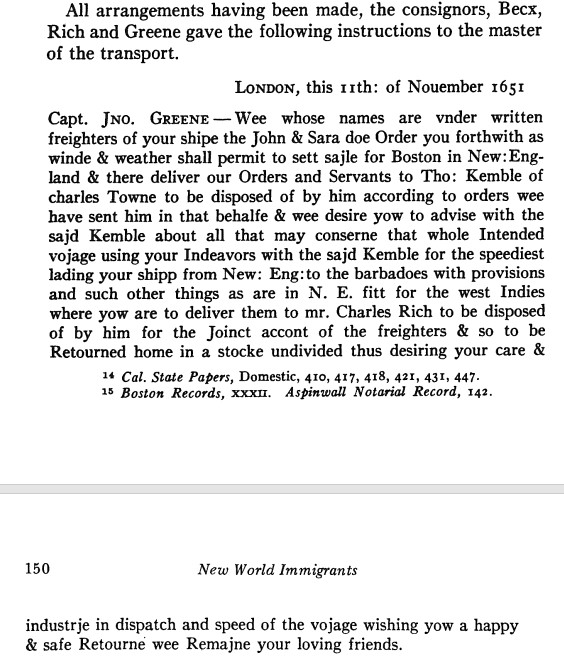 So where did the name of the ship John and Sarah come from??? Capt John and his second wife Sarah Allen of course....
Capt John Allen (1616 - 1675) -
Birth: Jan. 16, 1616 Norwich Norfolk, England
Death: Mar. 29, 1675 Charlestown Suffolk County Massachusetts, USA

Capt. John Allen, Jr., son of John Allen "the dyer" and his first wife Rebecca, bapt. Jan. 7, 1615/6 at the St. Martin at Palace parish church at Norwich, England. Capt. Allen followed his 10-year older brother Rev. Thomas Allen (bapt. Aug. 26, 1608) to Charlestown, Mass. by 1640. It is uncertain whether Capt. Allen m. his wife Sarah before crossing the Atlantic Ocean or after he arrived at Charlestown, Mass.
...
Capt, John Allen was a wealthy merchant involved in shipping between England, America and the West Indies and at his death is said to have been the wealthiest man at Charlestown, Mass.
...
Rev. Allen returned to Norwich, England during the Commonwealth era of William Cromwell (1651-1658) where he m. 2) the widow Joanna (Blake) Sedgewick, widow of Maj. Gen. Robert Sedgewick. Sedgewick was also of Charlestowm, Mass. and had returned to England but d. on May 24, 1656 at Jamaica as Commissioner of Jamaica under Oliver Cromwell.
"Charlestown" is a suburb of Boston:
Charlestown, Boston - is a neighborhood of Boston, Massachusetts, United States.[1] It is located on a peninsula to the north of the Charles River, across from downtown Boston. Charlestown was originally a separate town and the first capital of the Massachusetts Bay Colony;
...
Thomas and Jane Walford[2] were the original English settlers of Mishawaum (later Charlestown); they settled there in 1624. They were given a grant by Sir Robert Gorges, with whom they had settled at Wessagusset (Weymouth) in September 1623. John Endicott, first governor of Massachusetts Bay Colony, had sent William, Richard and Ralph Sprague to Mishawaum to lay out a settlement. Thomas Walford, acting as an interpreter with the Massachusetts Indians, negotiated with the local sachem Wonohaquaham for Endicott and his people to settle there. Although Walford had a virtual monopoly on the region's available furs, he welcomed the newcomers and helped them in any way he could, unaware that his Episcopalian religious beliefs would cause him to be banished from Massachusetts to Portsmouth, New Hampshire within three years.
Originally a Puritan English city during the Colonial era (a time to which many of the neighborhood's structures date), Charlestown was founded in 1628, and settled July 4, 1629, by Thomas Graves, Increase Nowell, Simon Hoyt, Rev. Francis Bright, Ralph, Richard and William Sprague and about 100 others who preceded the Great Migration. John Winthrop's company stopped here for some time in 1630, before deciding to settle across the Charles River at Boston.
| - - - - - - Background on Norwich:
A short history of Norwich and the Norwich area of Norfolk, UK
...
Into this Anglo-Saxon world came the Vikings. They were resisted by Edmund, King of East Anglia, who was killed by the Danes in 870. Edmund was made a saint and is commemorated at Bury St Edmunds. The Danes ruled the area for nearly 50 years. Although there is little now to show for their occupation, they left their imprint on the city in many street names. In 1999 a very fine Viking gold ingot was discovered in the city centre during the construction of the Forum.

East Anglia was recaptured in 917 by the Saxon king Edward the Elder, and then occupied once again by Vikings in 1004. In this year, Swein (Sven) Forkbeard, the King of Denmark, burnt much of Norwich to the ground. Over the next 50 years the Danes settled alongside the native Anglo-Saxons, creating a large prosperous town of some five to ten thousand inhabitants. This set the scene for the next major upheaval in Norwich's history, the Norman period.

The arrival of the conquering Normans from France changed everything. They relocated the town centre from Tombland to the current market place, where it was overlooked by the new castle. The cathedral was begun in 1096, with stone being imported from Caen in northern France. The Normans also built 2.5 miles (4 km) of defensive walls around the city.

The medieval period was a prosperous one for the Norwich area and the main industry was the wool trade and weaving. (The heavy fabric called Worstead was named after the village of that name north of Norwich.) Large numbers of skilled Walloon and Flemish weavers came to Norwich from the Low Countries during this time, often to escape persecution at home.

The wealth of the city was reflected in the many buildings dating from this time that can still be seen in Norwich. From the 1400s onwards there was extensive church building and even today you can find 31 medieval churches still standing, as well as many other buildings dating from the Middle Ages.

For much of the time between 1650 and 1750, Norwich was rated as second only to London in terms of its prosperity, with textiles still being the mainstay of the economy. It was considered in 1623 as a "City in a Wood, or a Wood in the City"(1) due to the amount of land available for pleasure and planting withing the city walls
---
Back to the 1550's:
1552 - Bargain and sale, Henry Rychers of Swannington, gent., to Robert his brother: manor called Turtevilles in Witchingham St Faith and all messuages, lands etc., in Witchingham St Faith, Witchingham St Mary, Alderford - lease of 20 years to Raffe Owtlawe, and said manor acquitted of title of dower of Elizabeth, wife of grantor - Turteville origin - Honour Reginald de Valle Torta (Turteville or Turville) in Devon - Trematon Castle - 1270 - Trematon - 1490 - Alice Turtevile, lord of Turtevile's manor, Stivekey, Norfolk
More about "Turtevile's" = Valletorte = Valle Tort Cornwall and Devon - It is interesting that Thomas Owtlawe from Somerset Co somehow comes to possess Turtevilles in Witchingham... hmmm
Ancestors and-or relations of Roger DE VALLETORT of Trematon & Harberton
The Valletort or Vautort family was an interesting one. I don't know their source, but in the 12th century they held the Honor of Tremanton in Cornwall and also acquired the Honor of Harberton in Devon which was formerly held by the Nonants. Roger Valletort, lord of Tremanton and Harberton died in 1207, leaving three sons and two daughters. The sons were successively lords of Tremanton and Harberton: Reginald who d. 1246, Ralph d. 1256 and was succeeded by his son Reginald who d. 1270, and Roger who d. 1275. The Valletort inheritance should have gone then to the sisters, Joan, wife of Henry de Pomeroy and Isabell, wife of Thomas Corbet, but were insead taken by the crown. John Lelands "Itinerary" says that he had heard that the lands were taken because of murder to which the Valletorts were party. This may have been a trumped up charge because Joan, widow of Reginald Valletort, who had m. Alexander de Oxeton, and was mistress of the king's brother, also wanted the land. In 1276 Joan Oxeton held the manors of Modbury, Brideford, and certain lands in Harberton "that belonged to Roger de Valle Torte and now to the King while the ward of the Valle Torta is in the hands of the King". Henry de Pomeroy, Joan Valletorte's grandson, got part of the family lands when he came of age in 1303. The Corbetts and the Oxetons also got portions of it. Tax rolls of 1313 show Henery de Pomeroy, Peter Corbett, and Alexander Oxeton all holding land in Harberton, Cheveryston and Pole. In 1338 Sir Henry de Pomeroy gave up his claim to the Valletort lands in Cornwall in favor of the king and his son, Edward Prince of Cornwall.

Note: Many sources have Joan, the mistress of Richard Earl of Cornwall, as widow of Reginald de Valletort, but John Carmi Parsons states that she was widow of Ralph de Valletort, while Joan Basset married Ralph's older brother Reginald. See notes under Joan, wife of Ralph de Valletort
---
Could this be THE Stephen Gardiner????
1544-51 - John, grandson and heir of John OWTLAWE, v. Stephen GARDYNER.: Detention of deeds relating to a messuage and land in Clacton.: ESSEX. - Court of Chancery: Six Clerks Office: Early Proceedings
Six Clerks - The Six Clerks' Office was a public legal office that served the equitable jurisdiction of the English Court of Chancery until the middle of the nineteenth century.... In the early history of the Court of Chancery, the Six Clerks and their under-clerks appear to have acted as the attorneys of the suitors. As business increased, these under-clerks became a distinct body, and were recognized by the court under the denomination of sworn clerks, or clerks in court
Chancery equity suits after 1558 The National Archives
Since the late 14th century, hundreds of thousands of disputes over inheritance and wills, lands, trusts, debts, marriage settlements, apprenticeships, and other parts of the fabric of daily life, were heard by the Lord Chancellor or his deputies. People turned to his court of Chancery because it was an equity court, promising a merciful justice not bound by the strict rules of the common law courts. The procedure was quite different, and involved the gathering of written pleadings and evidence. These still exist in such quantity that today the equity records of the court of Chancery (from 1873 the Chancery Division of the Supreme Court of Judicature) are one of the treasures of The National Archives, and a major resource for social and economic history.
...
15th and early 16th century suits are well catalogued but after 1558 the various series of initial pleadings are not catalogued in so much detail.
England Under The Tudors Bishop Stephen Gardiner, (c.1493-1555)
STEPHEN GARDINER, English bishop and Lord Chancellor, was a native of Bury St Edmunds. The date of his birth as commonly given, 1483, seems to be about ten years too early, and surmises which have passed current that he was some one's illegitimate child are of no authority. His father is now known to have been John Gardiner, a substantial cloth merchant of the town where he was born (see his will, printed in Proceedings of the Suffolk Archaeological Institute, i. 329), who took care to give him a good education.
...
But in 1539 he took part in the enactment of the severe statute of the Six Articles, which led to the resignation of Bishops Latimer and Shaxton and the persecution of the Protestant party. In 1540, on the death of Cromwell, earl of Essex, he was elected chancellor of the university of Cambridge. A few years later he attempted, in concert with others, to fasten a charge of heresy upon Archbishop Cranmer in connexion with the Act of the Six Articles; and but for the personal intervention of the king he would probably have succeeded.
...
In 1544 a relation of his own, named German Gardiner, whom he employed as his secretary, was put to death for treason in reference to the king's supremacy, and his enemies insinuated to the king that he himself was of his secretary's way of thinking
...
Great as Gardiner's influence had been with Henry VIII, his name was omitted at the last in the king's will, though Henry was believed to have intended making him one of his executors. 1547 - Under Edward VI he was completely opposed to the policy of the dominant party both in ecclesiastical and in civil matters. The religious changes he objected to both on principle and on the ground of their being moved during the king's minority, and he resisted Cranmer's project of a general visitation. His remonstrances, however, were met by his own committal to the Fleet Prison, and the visitation of his diocese was held during his imprisonment. Though soon afterwards released, it was not long before he was called before the council, and, refusing to give them satisfaction on some points, was thrown into the Tower, where he continued during the whole remainder of the reign, a period slightly over five years.
...
1553 - At the accession of Queen Mary, the Duke of Norfolk and other state prisoners of high rank were in the Tower along with him; but the Queen, on her first entry into London, set them all at liberty. Gardiner was restored to his bishopric and appointed lord chancellor, and he set the crown on the Queen's head at her coronation. He also opened her first parliament and for some time was her leading councillor.

---
---- >>> Back to Outlawe Research Journal - Page 6