Outlawe Research Journal - Page 14
---
---
Some new information to post ( using new publication tools hmm lets see... )
Here we have a pair of War of Roses warriors : John Outlawe a Norfolk Archer and Richard Outlaw a Naval Gentleman Man-at-Arms

Interesting ties to Ireland as well with John Outlawe's connection to Richard of York
1437 - John Outlawe - 03/23/1437 - Archer - Les Andelys - Captain Thomas Picot - John Talbot Earl Shrewsbury - BNF, MS. Fr. 25773, no. 1175

1441 - John Outlawe - 1441 - Archer - Expedition France - Richard Duke of York - Richard Duke of York - TNA, E101/53/33, m3

1445 - John Outlawe - 06/15/1445 - Archer - Retinue Kings Councillor - Sir William Oldhall - TNA, E101/53/33, m3
---
1442 - Richard Outlaw - 09/14/1442 - Man-at-Arms - Naval Service - Captain Miles Stapleton - BL, Add. MS. 21411, f. 30
http://www.medievalsoldier.org/database/maindbsearch.php ( search Owtlawe )
Outlawe, John 03/23/1437 - 1441 - 06/15/1445
Outlawe, Richard 09/14/1442
Name

| Name | Origin | Status | Rank | Service | Captain | Lieutenant / Sub-Captain | Commander | Service Date | Source Type | Reference |
| --- | --- | --- | --- | --- | --- | --- | --- | --- | --- | --- |
| Outlawe, John | | | Archer | Detachment, garrison of Regneville, Vexin; mustered: Les Andelys | | Picot, Thomas | Talbot, John (1385 - 1453) earl of Shrewsbury | 14370323 | Muster Roll | BNF, MS. Fr. 25773, no. 1175 |
| Outlawe, John | | | Archer | Expedition, France | York, Richard of (1411 - 1460) duke of York | | York, Richard of (1411 - 1460) duke of York | 1441 | Retinue roll | TNA, E101/53/33, m3 |
| Outlawe, John | | | Archer | Official Retinue, king`s councillor | Oldhall, William, Sir (c. 1390 - 1460) | | | 14450615 | Muster Roll | BL, Add. MS. 21411, f. 30 |
| | | | | | | | | | | |
| --- | --- | --- | --- | --- | --- | --- | --- | --- | --- | --- |
| Outlaw, Richard | | | Man-at-Arms | Naval Service | Stapleton, Miles | | | 14420914 | Muster Roll | TNA, E101/54/3, no2_m1 |
---
What is very interesting about this is that John Outlawe became part of the royal court of Richard Duke of York .
"Official Retinue, king`s councillor" Richard was in direct line to be King.
https://en.wikipedia.org/wiki/William_Oldhall

Sir William Oldhall (1390?–1460) was an English soldier and Yorkist supporter, who served as Speaker of the House of Commons of England between 1450-51

The son and heir of Sir Edmund Oldhall of Narford, Bodney, and East Dereham, Norfolk, by Alice, daughter of Geoffrey de Fransham of the same county, he was born about 1390. As an esquire in the retinue of Thomas Beaufort, 1st Earl of Dorset, he was present at the siege of Rouen in 1418–19. He also served under Thomas Montacute, 4th Earl of Salisbury in the expedition for the relief of Crevant, July 1423, and won his spurs at the battle of Verneuil on 17 August 1424. About this date he was made seneschal of Normandy. In the subsequent invasion of Maine and Anjou he further distinguished himself, and was appointed constable of Montsoreau and governor of St. Laurent des Mortiers.
In the summer of 1426 Oldhall was employed in Flanders on a mission to Philip the Good, Duke of Burgundy concerning Jacqueline, Duchess of Gloucester, then a prisoner in the duke's hands. In October 1428 he was detached by the council of Normandy to strengthen the garrison of Argentan, then in danger of falling by treachery into the hands of Jean II, Duke of Alençon. He was present at the great council held at Westminster, 24 April–8 May 1434, on the conduct of the war in France, and also at the council of 24 February 1438–9. In 1440 he was chamberlain to Richard of York, 3rd Duke of York, and a member of his council, and the following year was made feoffee to his use and that of his duchess Cecilia of certain royal manors. In the struggle for the retention of Normandy he commanded the castle of La Ferté Bernard, which fell into the hands of the French on 16 August 1449.
Oldhall was with the Duke of York in Wales in September 1450; was returned to parliament for Hertfordshire on 15 October of the same year, and on 9 November following was chosen Speaker of the House of Commons. Indicted in 1452 for complicity in the insurrection of Jack Cade and the subsequent rebellion of the Duke of York, he was found guilty, outlawed, and attainted on 22 June. He took sanctuary in the chapel royal of St. Martins-le-Grand, where he remained in custody of the king's valet until after the First Battle of St Albans on 22 May 1455, but obtained his release and the reversal of his outlawry and attainder on 9 July. He was again attainted in November 1459 as a fautor and abettor of the recent Yorkist insurrection; but on the accession of Edward IV of England the attainder was treated as null and void. He died in London in November 1460, and was buried in St Michael Paternoster Royal.[3]
Besides his Norfolk estates Oldhall held (by purchase) the manors of Eastwich and Hunsdon, Hertfordshire. On the latter estate he built, at the cost of seven thousand marks, a castellated brick mansion. It remained in the Crown, notwithstanding the avoidance of his second attainder, and was converted by Henry VIII into a royal residence. In 1558 it was granted by Elizabeth I to Sir Henry Cary. It was later transformed into the existing Hunsdon House.
https://en.wikipedia.org/wiki/Richard_of_York,_3rd_Duke_of_York
Richard of York, 3rd Duke of York KG (21 September 1411 – 30 December 1460), was a leading English magnate, a great-grandson of King Edward III through his father, and a great-great-grandson of the same king through his mother. He inherited vast estates and served in various offices of state in Ireland, France, and England, a country he ultimately governed as Lord Protector during the madness of King Henry VI. His conflicts with Henry's wife, Margaret of Anjou, and other members of Henry's court, as well as his competing claim on the throne, were a leading factor in the political upheaval of mid-fifteenth-century England, and a major cause of the Wars of the Roses. Richard eventually attempted to take the throne, but was dissuaded, although it was agreed that he would become king on Henry's death. But within a few weeks of securing this agreement, he died in battle.
Although Richard never became king himself, he was the father of King Edward IV and King Richard III.
Ireland (1445–1450)
[
edit
]
York returned to England on 20 October 1445 at the end of his five-year appointment in France. He must have had reasonable expectations of reappointment. However, he had become associated with the English in Normandy who were opposed to the policy of Henry VI's Council towards France, some of whom had followed him to England (for example Sir William Oldhall and Sir Andrew Ogard). Eventually (in December 1446) the lieutenancy went to Edmund Beaufort, 2nd Duke of Somerset, who had succeeded his brother John. During 1446 and 1447, York attended meetings of Henry VI's Council and of Parliament, but most of his time was spent in administration of his estates on the Welsh border.
---
https://en.wikipedia.org/wiki/John_Talbot,_1st_Earl_of_Shrewsbury
John Talbot, 1st Earl of Shrewsbury and 1st Earl of Waterford KG (1384/1387 – 17 July 1453), known as "Old Talbot", was a noted English military commander during the Hundred Years' War, as well as the only Lancastrian Constable of France.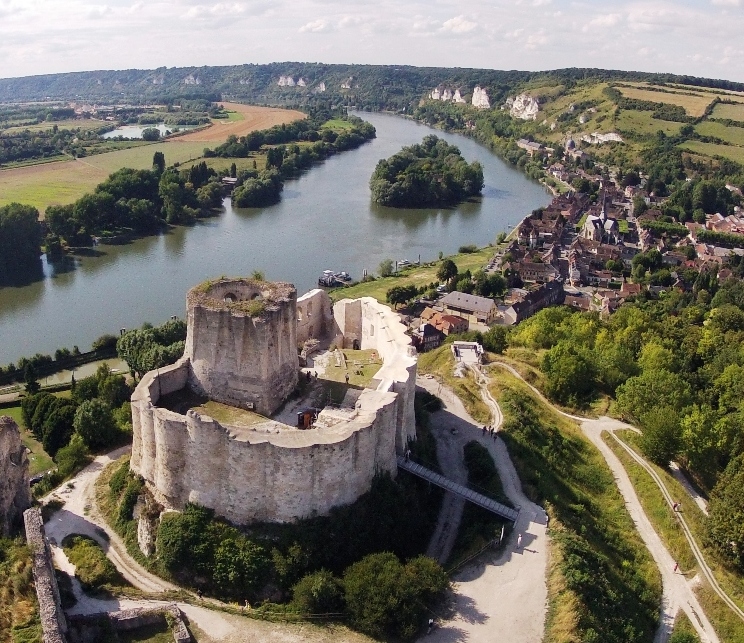 Château Gaillard (Les Andelys)
In January 1436, he led a small force including Thomas Kyriell and routed La Hire and Xaintrailles at Ry near Rouen. The following year (1437) at Crotoy, after a daring passage of the Somme, he put a numerous Burgundian force to flight. In December 1439, following a surprise flank attack on their camp, he dispersed the 6000 strong army of the Constable Richemont, and the following year he retook Harfleur. In 1441, he pursued the French army four times over the Seine and Oise rivers in an unavailing attempt to bring it to battle.
Lord Shrewsbury
[
edit
]
Around February 1442, Talbot returned to England to request urgent reinforcements for the Duke of York in Normandy. In March, under king's orders, ships were requisitioned for this purpose with Talbot himself responsible for assembling ships from the Port of London and from Sandwich.[14]
On Whit Sunday, 20 May, Henry VI created him Earl of Shrewsbury. Just five days later, with the requested reinforcements, Talbot returned to France where in June they mustered at Harfleur. During that time, he met his six-old year daughter Eleanor for the first time and almost certainly left the newly created Countess Margaret pregnant with another child.[15]
In June 1443, Talbot again returned to England on behalf of the Duke of York to plead for reinforcements, but this time the English Council refused, instead sending a separate force under Shrewsbury's brother-in-law, Edmund Beaufort. His son, Sir Christopher stayed in England where shortly afterwards he was murdered with a lance at the age of 23 by one of his own men, Griffin Vachan of Treflidian on 10 August at "Cawce, County Salop" (Caus Castle).[
---
Interesting connections to the Duke of York - Ireland Wales and Clare ...
Richard, Duke of York, as Viceroy of Ireland. 1447-1460; With Unpublished Materials for His Relations with Native Chiefs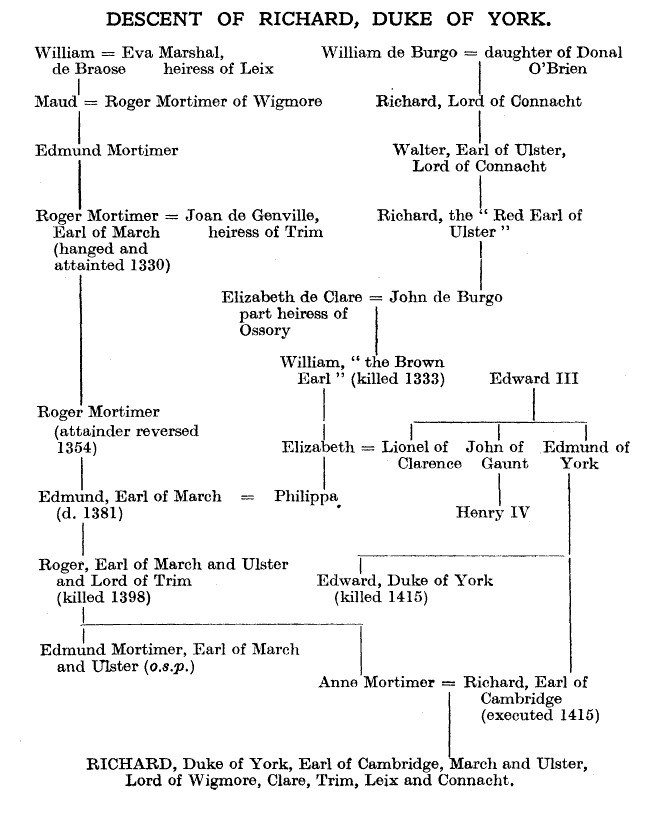 ---
The Soldier in Later Medieval England
1442 - Richard Outlaw - 09/14/1442 - Man-at-Arms - Naval Service - Captain Miles Stapleton - TNA, E101/54/3, no2_m1
Birth:
1395 Ingham Norfolk, England
Death:
Oct. 1, 1466 Ingham Norfolk, England

Sir Miles Stapleton, KG (1395 – 1 October 1466) was Lord of the Manor of Ingham, Norfolk and de jure Baron Ingham of Ingham, Norfolk, and Lord of the Manor of Bedale, North Yorkshire.

Sir Miles Stapleton was the son of Sir Brian Stapleton, of Ingham (1379 - 1438), Sheriff of Norfolk, a veteran of the Battle of Agincourt, and Cecily Bardolf (d. 1432), daughter to William Bardolf, 4th Baron Bardolf, of Wormegay, Norfolk, and Agnes de Poynings.

Sir Miles Stapleton married firstly Elizabeth Felbrigge, daughter of Sir Simon Felbrigge, Knight of the Garter, of Felbrigg, Norfolk by Margaret, perhaps of Teschen, a kinswoman and lady in waiting to English queen Anne of Bohemia. They had no issue. He married secondly in 1438, Katherine de la Pole (1416-1488, buried in Rowley Abbey, Oxfordshire), daughter and heiress to Sir Thomas de la Pole (aft. 1397-1433), who died in France while a hostage for his brother William, son to Michael de la Pole, 2nd Earl of Suffolk. They had two known daughters, the eldest, Elizabeth Stapleton, married before March 1464, Sir William Calthorpe, Knt., of Burnham Thorpe, Norfolk. The younger daughter, Jane (or Joan) Stapleton (d. 1519), married Sir Christopher Harcourt, Knt., of Great Ashby, (Ashby Magna), Leicestershire (d. 1474).

He was a Knight of the Shire for Suffolk, and for Norfolk also, and was High Sheriff of Norfolk and Suffolk in 1440. In 1441-2 Sir Miles Stapleton and Thomas Tudenham were summoned as Knights and M.P.'s for Norfolk to attend the Privy Council.

Stapleton was in the French wars, where he is said to have single-handedly taken seven prisoners. He had a Royal Commission for the safekeeping of the seas in 1442. The following year he and his brother, Bryan Stapleton of Crispings, in Happisburgh, & Hasilden, Norfolk, received the thanks of the Privy Council in connection with a riot at Norwich.

A man-at-arms was a soldier from the High Medieval to Renaissance periods who was typically well-versed in the use of arms and served as a fully armoured heavy cavalryman.[a] A man-at-arms could be a knight or nobleman, a member of a knight or nobleman's retinue or a mercenary in a company under a mercenary captain. Such men could serve for pay or through a feudal obligation. The terms knight and man-at-arms are often used interchangeably, but while all knights equipped for war certainly were men-at-arms, not all men-at-arms were knights.
...
Social status
The social structure of the Anglo-Norman society of England was relatively rigid, however, one of the easiest ways for a man to improve his social rank was through military service; another method was through the church. In the Norman states, unlike in many other contemporary societies, the knighting of men of common birth who had demonstrated ability and courage on the field of battle was possible. Although rare, some non-knightly men-at-arms did advance socially to the status of knights. The knighting of squires and men-at-arms was sometimes done in an ignoble manner, simply to increase the number of knights within an army (such practice was common during the Hundred Years' War). In chivalric theory, any knight could bestow knighthood on another, however, in practice this was usually done by sovereigns and the higher nobility. It is recorded that the great mercenary captain Sir John Hawkwood knighted a number of his followers, as many as twenty on one occasion, though he could reasonably be expected to provide the income his created knights required to maintain their new status.[23] Attempts to restrict the power of commanders to make knights would increase during the 16th century and by the end of Elizabeth I's reign, the practice had all but ceased.[24]
Although a knight bachelor, a knight banneret and all grades of nobility usually served as men-at-arms when called to war, the bulk of men-at-arms from the later 13th century came from an evolving social group which became known as the gentry. The man-at-arms could be a wealthy mercenary of any social origin, but more often he had some level of social rank based on income, usually from land. Some came from the class known as serjeants but increasingly during the 14th century they were drawn from an evolving class of esquire. Esquires were frequently of families of knightly rank, wealthy enough to afford the arms of a knight but who had thus far not been advanced to knightly status or perhaps had avoided it because they did not want the costs and responsibilities of that rank. Also found serving as men-at-arms were the lowest social group of the gentry, known by the 15th century simply as gentlemen.
The proportion of knights among the men-at-arms varied through time. Between the 1280s and 1360s, figures between 20-30% were commonplace. Thereafter, there was a rapid decline, with the figure dropping to 6.5% in 1380. A slight rise is recorded to 8% at Agincourt, perhaps because this was a royal army, but thereafter the figure continued to decline and by 1443, the Duke of Somerset mustered only 1.3% knights among his men-at-arms.[26]
---
Now the Timothy Outlaw Geneoloy book can be found in an online library:
---
Ok I finished doing a DNA test and now I need to comfirm other Outlaw have the same type I-P109:
I-P109 is a subgroup of I-M253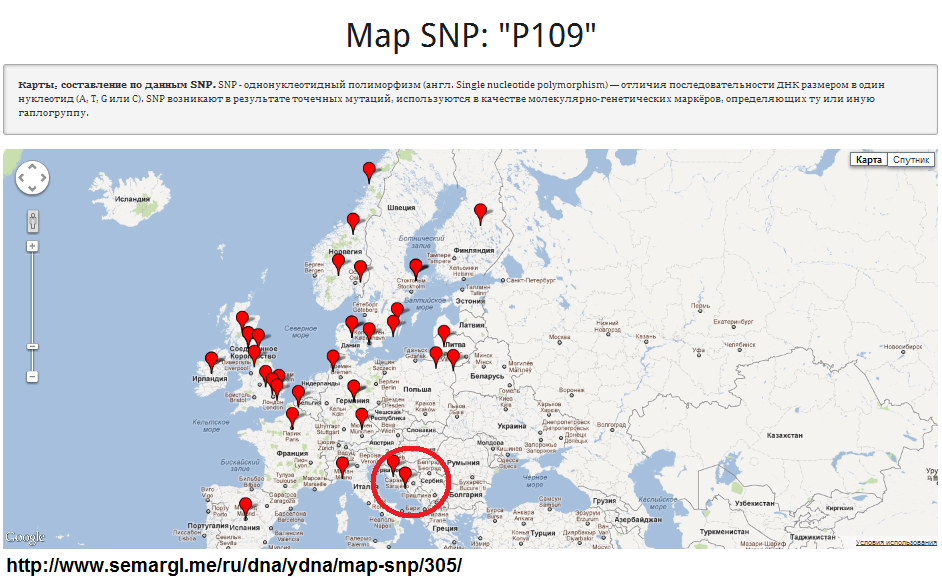 Paternal Haplogroup
Haplogroup I-M253 Migration
Origin: Haplogroup I-M253 can be found at levels of 10% and higher in many parts of Europe, due to its expansion with men who migrated
northward after the end of the Ice Age about 12,000 years ago. It reaches its highest levels in Denmark and the southern parts of Sweden and
Norway.

As an example another family with i-P109:
http://www.waughfamily.ca/Ancient/#Waugh_Family_DNA
M253 (I1) -P109-S10891-Y13930-Y14225
According to YFull's calculations Haplogroup I-P109 was formed about 4100 years ago and each of the major subbranches (Y14999, Y3664, Y5621, S10891 and Y3662) were formed about 3300 years ago. Therefore, the spread of the P109 marker began between 2000 to 1300 BC or in the Nordic Bronze Age . The TMRCA for S10891 is 3200 years ago, for Y13930 (or FGC21732) it's 2400 years ago and for Y14225 it's 800 years ago (around 1200 AD). Y13930 (FGC21732) is the major division within S10891 that appears to separate the mainly British Isles branch from the Scandinavian (mainly Norwegian & Swedish) branch. If YFull's calculations are correct (and based on the limited sample size) it's possible that Norse settlement in the British Isles began at least as early as 200 BC. Several Bronze Age archaeological sites in the British Isles contain Baltic Amber (and other trade goods) that must have moved (along with traders and possible migrants) across the North Sea by boat.
Our Y-DNA-111 markers (for Jeff Waugh) indicate that we are M253-L22-P109 (I1a1b1 by ISOGG).
Big-Y DNA results indicate a new terminal haplogroup of I-S10891 (Nordtvedt May 26, 2014).
Yfull identifies new subclade under IS10891 of I-Y13930 (April, 2015).
Yfull identifies new subclade under I-Y13930 of I-Y14225 (June, 2015)
FTDNA identifies FGC21765 under S10891 (Nov, 2015)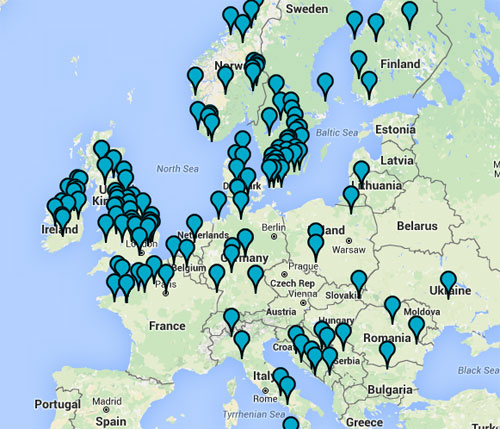 P-109 Distribution in Europe
http://www.waughfamily.ca/Ancient/#The_Nordic_Bronze_Age
"...the spread of the P109 marker began between 2000 to 1300 BC or in the Nordic Bronze Age . "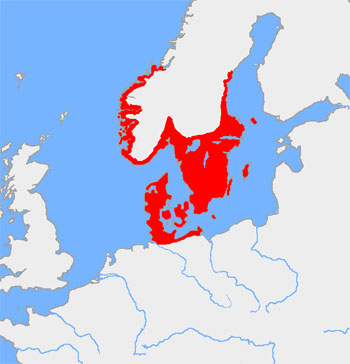 Map of the Nordic Bronze Age Culture c 1200 BC
The Nordic Bronze Age (also Northern Bronze Age) is a period of Scandinavian prehistory from c. 1700–500 BC. The Bronze Age culture of this era succeeded the Late Neolithic Stone Age culture and was followed by the Pre-Roman Iron Age. The archaeological legacy of the Nordic Bronze Age culture is rich, but the ethnic and linguistic affinities of it are unknown, in the absence of written sources. Some scholars also includes sites in what is now northern Germany, Pomerania and Estonia in the Baltic region, as part of its cultural sphere.
http://www.eupedia.com/europe/Haplogroup_I1_Y-DNA.shtml
...
Phylogeny of I1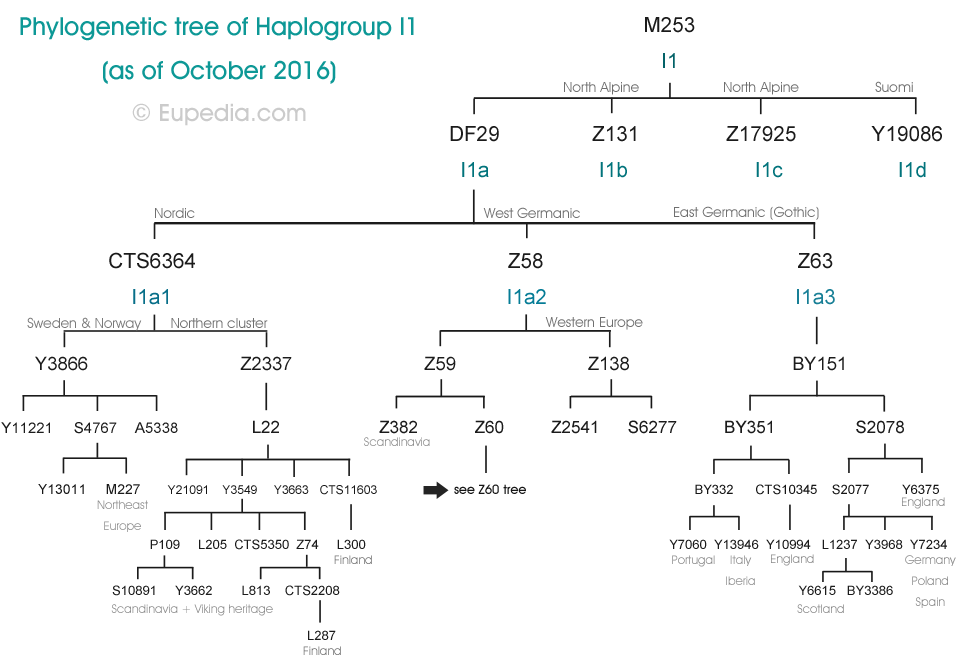 DF29+ represents 99% of I1 lineages.
CTS6364+ is the main Nordic branch, centered mostly on Scandinavia, Germany and northern Poland.

L22+ (aka S142+) is a very big Nordic branch. It is also very common in Britain, especially on the east coast where the Vikings settled most heavily, in the Low Countries and Normandy (also doubtlessly the heritage of the Danish Viking), as well as in Poland and Russia (Swedish Vikings).

P109+ A mostly southern Scandinavian subclade, with a presence in all the regions settled by the Danish Vikings. It has been found sporadically in many parts of Europe, such as western Iberia, northern Italy, the Balkans, Lithuania and Russia.

S10891+ is found mostly in Sweden and Norway, but also in Normandy and the British Isles (Viking ancestry) as well as in northern Italy (FGC21732 subclade).
S7660/Y3662+

Y4045+ is found in England and Ireland (Viking origin).
S14887+ is found mostly in Denmark, Sweden and Finland.

FGC22045+ is the main variety of I1 found in Serbia (7% of the population), probably of Gothic/Gepid origin.

Y3664+ is a minor clade found in Denmark, Schleswig-Holstein, Normandy and Guernsey (Viking origin).
Y5621+ is a minor clade found in Sweden, Normandy and Britain (Viking origin).
Y14999+ is a minor clade found in France and Britain.
See also:
http://dna.scangen.se/spn/SwedishDNAProjectNews_02_2014.pdf
Haplotype 1 which was described in the first issue and "Ht 2" refers to Haplotype 2 which is the one in focus now. Of all paternal lines emerging in Sweden, Ht 2 is the most frequently occuring. As far as we know, 3.5 % of paternal lineages from Sweden carry it. Compare this to 2.4 %, the current corresponding share of Ht 1. (The share of the third most common haplotype is 1,5 %.)

Ht 2 is the modal (ancestral) haplotype of both haplogroup I-L22 and its subclade I-P109. At DYS390 and DYS385a (the second and fifth marker in the sequence used by FTDNA), Ht 2 has the allele values 23 and 14 respectively. Before I-L22 was born, those allele values were 22 and 13. Ht 1 differs from Ht 2 in that DYS385b (the sixth marker) mutated once more to a value of 15 instead of the previous 14. Ht 1 is modal haplotype of the groups within I-L22 which Kenneth Nordtvedt calls "ultra-Norse types 2−9" (of which "type 2" has the SNP L813) and that branched off between 1,500 and 1,800 years ago. (Kenneth Nordtvedt, http://knordtvedt.home.bresnan.net, The I1modalities.xls, 2013-12-22, and the I-L22 Project.)

That Ht 2 is older that the earlier described Ht 1 corresponds well with the fact that it also has a larger amount of carriers. Observe that in each particular test taker's case his 12-marker haplotype maybe hasn't been unchanged since the Bronze age. As with all haplotypes, one must understand that a certain haplotype doesn't appear on one branch only. Random mutations make that some lineages from related branches get the same allelle values. Also, a lineage which has had Ht 2 for several thousand years can have been hit by a recent mutation, resulting in the lineage ending up in a neighbouring haplotype instead. SNP testing confirms which branch one belongs to
....

Families within I-P109 with this haplotype
28 men with the name Chisholm have tested positive for Ht 2. They make up the core group (including the aristocratic line) of those with this name. The name was assumed after Cheseholm in Roxburghshire in the southeastern part of Scotland at some point in time no later than the 13th century. According to tradition, the family had Norman origin. Sir Robert de Cheseholme was in 1359 appointed constable of the royal castle Urquhart, now a ruin by the lake Loch Ness. The Chisholms established themselves, through the marriage of his son, as a highland clan with the castle Erchless, Strathglass (see picture) as their family seat. The estate was owned by the family until it was sold in 1937. In addition to these Chisholms, there is a branch of 11 test takers who write their names Chisolm and Chism. They have a mutation DYS385b = 15 which evidently appeared after the name was assumed. The first record of the Chisholm coat of arms with a boar's head couped is from the year 1296. It later developed to include to wildmen supporters and a crest with a hand holding aloft a dagger through the boar's head.

25 test takers have the name Rice, most of whom are known descendants of Edmund Rice (1594−1663). He emigrated to Massachusetts Bay Colony in the 1630s. His background in England is unknown, except for the fact that he was born in Buckinghamshire. Edmund Rice ended up owning a lot of land in Sudbury, serving as a deacon, and being an influential figure in the area. Since ten of his twelve children lived to adulthood and had children of their own, he has many descendants. The Edmund Rice (1638) Association, Inc. was founded in 1912. The picture of the memorial, which was erected in 1913, is from their website. There are other 12-marker haplotypes that are close to Ht 2 among the Rices, but it's clear that Ht 2 was the original within the family.

22 by the name of Gentry can lead their genealogies back to North Carolina and other places in USA during the 18th century, some of them to Nicholas Gentry, born ca 1655 in Essex, England.

Most test takers of the name Hamby, 11 ones, have Ht 2. The name is derived from the estate Hamby in Lincolnshire, England, where one Walter (ca 1120−ca 1180) was the first known man with the name (he wrote himself de Hamby).
5 Belangers prove to have a recent connection and with this haplotype. It's a French-Canadian family, originally from Normandy, where François Belanger was born 1586 at Plouigneau. The haplotype is the original one for this family (two others with the name has one mutation each, on different markers).
...

The distribution of Ht 2 in different haplogroups
I-M253 (I1): 69 confirmed examples. I-L214 (also I1): 1 example from England. I-P30 (also I1): 1 example from UK.
I-L22 (I1a1b): 32 examples.
I-P109 (I1a1b1): 38 examples.
I-L205 (I1a1b2): 8 examples, 2 each from England and the Netherlands and 1 from Scotland.
I-Z74 (I1a1b3): 1 example from England. I-Z75 (also I1a1b3): 1 example from England.
I-L258 (I1a1b3a1): 5 examples, 4 from Finland and 1 from Poland.
I-L813 (I1a1b3b): 1 example from the Netherlands.
I-CTS9346 (without ISOGG name, below I1a1b3b): 1 example from Sweden.
I-L300 (I1a1b4): 3 examples from Finland.
I-Z60 (I1a2a1): 1 example from the Netherlands.
I-L573 (I1a2a1c): 1 example from Germany.
I-Z63 (I1a3): 7 examples, 1 each from Czech Republic, Poland, Russian Federa­tion and UK.

https://www.wikitree.com/wiki/Space:Simonds_yDNA
...
Haplogroups I-M253 (also called I1) and its two subclades I-L22 and I-P109 are commonly found in men in Scandinavia, the latter two especially in Norway and Sweden.
According to the National Geographic Society's Genographic Project, the SNP mutation called P109 is "between 1 and 2 percent of male lineages in Sweden and Norway. However, it is rare in the male population of Finland. It is present in trace frequencies of less than 1 percent in Spain, Italy, France, Germany, and the British Isles." I-P109 formed about 4,100 years ago while the Time to Most Recent Common Ancestor for people in this subclade is about 3400 years ago[13] and probably originated in a man who lived in the Oslo fiord between present day Sweden and Norway who was the progenitor of all men with the P109 mutation in their Y-chromosomes including William Simonds and his descendants
It was then spread from Scandinavia to other areas by the Vikings and perhaps also by those Anglo-Saxon groups with origins in what is now Denmark such as the Jutes and Angles. The Vikings raided and settled in the eastern part of England from the 9th to the 11th centuries,[15] whereas the Jutes and Angles came to Britain during the Anglo-Saxon migrations of the 5th century. But because the Danish Vikings and the Jutes and Angles all came to Britain from the same part of Scandinavia, it is difficult at this time to distinguish the Y-DNA of one of these groups from the others and to determine if the ancestors of those with the P109 SNP in Britain were Vikings or Anglo-Saxons
https://www.familytreedna.com/public/yDNA_I-P109/default.aspx?section=yresults
The I-P109 Y-DNA Haplogroup Project - Y-DNA Classic Chart

---
So I found some Outlaw DNA tests and it does appear the families in America are related to the familes in the UK.
There are really not enough examples though and not any indication of Haplogroup (I-P109?) Yet ...
There still is the possibility of connection to other families .


http://www.ysearch.org/alphalist_lastname.asp?uid=&region=&letter=O&searchtype=exact&lastname=Outlaw


https://www.familytreedna.com/learn/y-dna-testing/y-str/two-men-share-surname-genetic-distance-67-y-chromosome-str-markers-interpreted/
If two men share a surname, how should the genetic distance at 67 Y-chromosome STR markers be interpreted?
| | | |
| --- | --- | --- |
| 1 or 2 | Tightly Related | A 65/67 or 66/67 match between two men who share the same surname (or a variant) indicates a close relationship. It is most likely that they matched 36/37 or 37/37 on a previous Y-DNA test. Very few people achieve this close level of a match. All confidence levels are well within the time frame that surnames were adopted in Western Europe. |
---
Also for reference the latest I-p109 tree:
https://www.yfull.com/tree/I-P109/
---
Interesting sweden map of I-P109 distribution ( I1a1b1 old designation)
http://dna.scangen.se/index.php?show=intro&lang=en
The Swedish Haplogroup Database (SHD) is a free and independent database with the purpose to collect the haplogroups of historical Swedish persons and thus create a tool to include this knowledge into traditional genealogy. The aim is also to present statstics of haplogroup distribution and contribute to the knowledge about pre-historic migration in Scandinavia. Genetic science shows us that all humans originate in Africa and we differ very little from each other.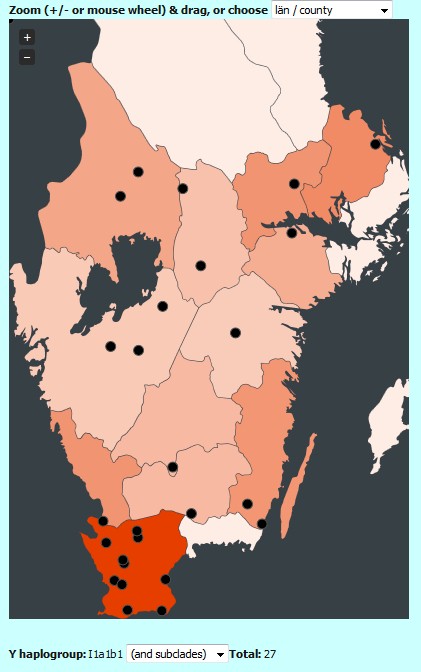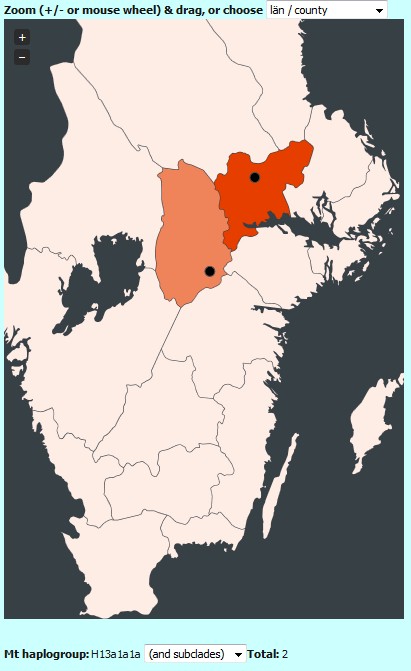 ---
Interesting how Sir Robert de Vere was a signer of the Magna Carta (1215) was "Outlawed" by King John and excommunicated by the Pope and later went on the fifth crusade and died , was also thought to be the real "Robin Hood" ... Then I find this list of English crusaders and Sir William de Waterville is in it too ...
1210 - Roger Utlag - Witness - Lease Steeple Bumpstead Essex - Sir Robert de Vere - Gilbert de Baillol - William de Watevill - Richard de Kann - Cartulary of the Knights of St John
https://www.geni.com/people/Robert-de-Vere-3rd-Earl-of-Oxford/6000000001210373280

http://www.deveresociety.co.uk/pdf/OxfordPedigreeTree.pdf
http://www.findagrave.com/cgi-bin/fg.cgi?page=gr&GRid=51609080&ref=wvr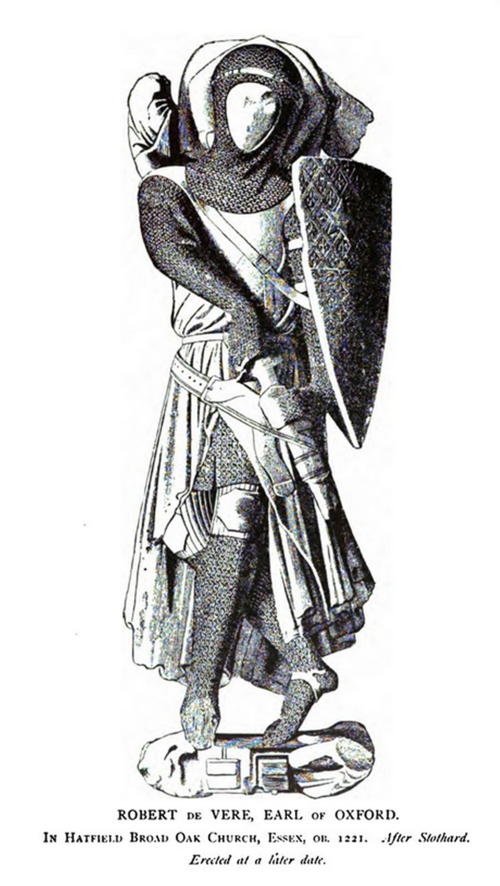 Magna Charta Surety, 1215
Hereditary Master (Lord) Chamberlain of England
3rd Earl of Oxford.
In the 12th Century, Melusine's descendant, Robert de Vere, 3rd Earl of Oxford, and legal pretender to the Earldom of Huntingdon, was appointed as King Richard's steward of the forest lands of Fitzooth. As Lord of the Greenwood, and titular Herne of the Wild Hunt, he was a popular people's champion , and, as a result, he was outlawed for taking up arms against King John. It was he who, subsequently styled Robin Fitzooth, became the prototype for the popular tales of Robin Hood.

Robert participated in the ill fated Fifth Crusade with King John, probably as a penance/ peacemaking effort with the church who had excommunicated him during the Magna Carta struggles. It appears he was on Crusade in the company of his illegitimate son Roger at the Battle of Damietta, Egypt in 1221, the year they both died. Sources say he died in Italy of wounds sustained in this battle, on his way home. The crossed feet on his effigy represent he was on crusade in his lifetime.
...
Robert de Vere, 3rd Earl of Oxford - Wiki

Robert de Vere (aft. 1164 - bef. 1221)
....

...

DNA Connections It may be possible to confirm family relationships with Robert by comparing test results with other carriers of his Y-chromosome or his mother's mitochondrial DNA. Y-chromosome DNA test-takers in his direct paternal line on WikiTree: Bob Weaver : Family Tree DNA Y-DNA Test 37 markers, haplogroup R-M269, Ysearch AFUAH, FTDNA kit #388435
related: http://gentrekker.com/getperson.php?personID=I13309&tree=Dickinson
...
Saher IV de Quincy Suffix Earl of Winchester Born ca. 1165 Gender Male Died 3 Nov 1219 Damietta, Egypt The war being over, Saer determined to fulfil his crusader's vow. In April 1218 he caused the consecration of the abbey church of Garendon, Leicestershire, of which he was patron in right of his wife, and in 1219 sailed with Robert Fitzwalter and others for the Holy Land, arriving at Damietta during its siege by the crusaders. Shortly after his arrival he fell sick, and commanded that after his death his heart and vitals should be burnt, and the ashes carried to England and buried at Garendon, which was done. He died on 3 Nov., and was buried at Acre (Annals of Waverley, an. 1219). He is described as an accomplished and strenuous warrior (Historia Anglorum, ii. 243). A drawing of his arms is given in the works of Matthew Paris (vi. Additamenta, 477; compare the engraving from his seal in Doyle, Official Baronage). He gave many gifts to Garendon Abbey, and was a benefactor to the canons of Leicester. He died heavily in debt to the king (Rotuli Finium, i. 50). His wife Margaret died in 1235. He had four sons: Robert, Roger (see below), Reginald, and a second Robert. Saer also left a daughter Hawyse, who married Hugh de Vere, earl of Oxford, about 1223,
Jerusalem Delivered: An Epic Poem, in Twenty Cantos; Tr. Into ..., Volume 1
...
List of English Crusaders

...
Sir Robert De Vere
Sir William De Waterville
...

The List which I have formed of English Crusaders will be interesting to the antiquary. For a few of the names, I have been indebted to J. C. Sneyd Kynnersley, Esq., St. John's College, Cambridge, and for a few to his Grace the Duke of Newcastle and other descendants of crusading families ; but the mass have been gleaned from a patient perusal of monkish annals. It is much to be regretted that of the thousands who assumed the Cross in England, so few have been recorded by our old chroniclers : in consulting however the MSS. in the Ashmolean Museum, I was so fortunate as to find a list of those who accompanied King Richard*, which made a considerable addition to their number ; others, which may have escaped my own research, will perhaps be furnished by those who are more deeply read in county histories, in genealogy, and heraldry, and who may derive gratification from this first attempt to chronicle the names of those, who, crowding from the English shores, participated in the fame of Duke Robert or Cceur de Lion, of Prince Edward, or of Salisbury. Mr. Mills has, it is true, in his admirable " History of the Crusades," portrayed in its real colours the nature of those singular expeditions ; but who would not willingly continue the illusion which, whether derived from the songs of our early minstrels, or the charming tale of Tasso, invests the character
of the Crusader with I know not what of devotion, generosity, and love?

THE MEMORY OF PAST LOVE.
Voice animetta mia*.
My life, my dulcet little soul ! oh when
Shall I return to the dear spot, or near it,
Where we were so conjoined, and so divided ?
But a fond glance of the' eye, a pleasant smile,
A courteous salutation, a kind nod,
Two blessed love-words, and two sighs, shall be
Of my so long, long sufferings the reward, —
Or rather the fresh tortures, — ties, bonds, chains,
Torches, and darts, and arrows, to transfix,
Bind, and inflame me still !
...
Canto IX. JERUSALEM DELIVERED. 459
LXXXVIII.
Nor thus content, he from his steed alights,
And makes fierce battle with the corse he slew,
Like a struck mastiff that in vengeance bites
The stone some passenger in anger threw.
O vain relief of anguish, to pursue
With rage the dust insensible to pain !
But meanwhile Godfrey and his circling crew
Of Paladins, against the Soldan's train
Spent not in vain their powers, struck not their blows in vain.

LXXXIX.
A thousand Turks were there from head to heel
Sheathed in fine mail, with plated shields ; their frame,
Untired by toil, was stubborn as the steel
That armed their limbs, their daring souls the same, —
Versed in all movements of the martial game :
The Soldan's ancient body-guard, they passed
With him to the Arabian wilds when came
His evil hour, and to his fortunes fast
Adhered through bright and dark, confederates to the last.

https://books.google.com/books/about/Jerusalem_Delivered.html?id=a1k9AAAAYAAJ

JERUSALEM DELIVERED; AN EPIC POEM, IN TWENTY CANTOS; Vol 2

St John the Baptist, Little Maplestead, Essex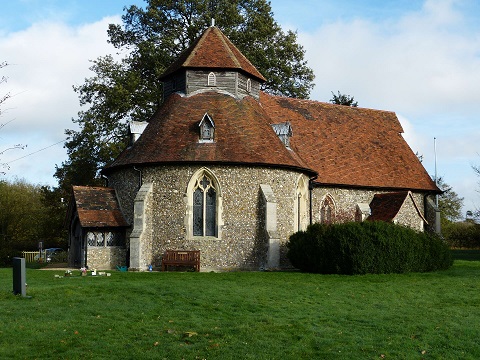 History
The Domesday Survey does not distinguish between Great and Little Maplestead, and identifies three holdings in the two villages. Half a hide was held by Osmund from John FitzWaleran in 1086, that belonged to Grim as a manor in 1066. Ilger held half a hide from Robert Gernon, that belonged to Wulfwine in 1066, and the wife of Aubrey de Vere appropriated 5 free men with 1¼ acres here, that Tidbald held under her. In addition, and perhaps of more significance, is the manor of 'Napstead' in Little Maplestead, which was held by the wife of Aubrey de Vere from the Bishop of Bayeux in 1086, and by 8 free men in 1066, and was assessed at 22½ acres. It is not clear which of these holdings is relevant to the later history, which is that the village and the church were given by Juliana FitzAudelin, the daughter of Robert Dosnel and wife of William FitzAudelin, Henry II's steward, to the Knights Hospitallers, a grant confirmed by her husband in 1186.






see also : Richard Le Utlawe - 1260 - Essex


1259 - A pitched battle was fought in Syria, between the Templars and Hospitallers. The Templars were defeated

1260 - Witness Richard le Utlawe - Essex - Grant of Rent William de Wateville to John de Vallibus and his heirs of land in Hempstead, Essex witnessed by Sir Nicholas Peche, Sir Andrew de Helyun, Sir Simon Peche, Philip de Codree, John de Bosco, Richard de Kanne, Richard le Utlawe, Hugh de Sanford, Roger de Reymes, Geoffrey de Bello, Simon Clericus - 44 Henry III
1285 - Hospitaller Charter of Ida daughter of the late Richard Utlaw of the five acres of land and half an acre of meadow, with appurtenances. - Roger [ son of Richard ] Outlaw ( of Bumpstead Helion ), Ida daughter of Richard
Some questions might be : Why are all these (important) people gathered together for this occasion of a rental agreement?
The Hospitaller Cartulary in the British Library: Michael Gervers: 9780888440501: Amazon.com: Books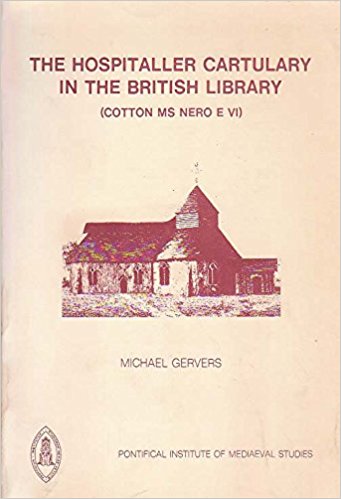 Notice Robert De Vere is mentioned - then later Ida Outlaw in 1285 in Bumstead Helion ( next door) , So the early 1210 Roger Outlaw was probably near also .. Crusading neigbors of Hospitallers and Templers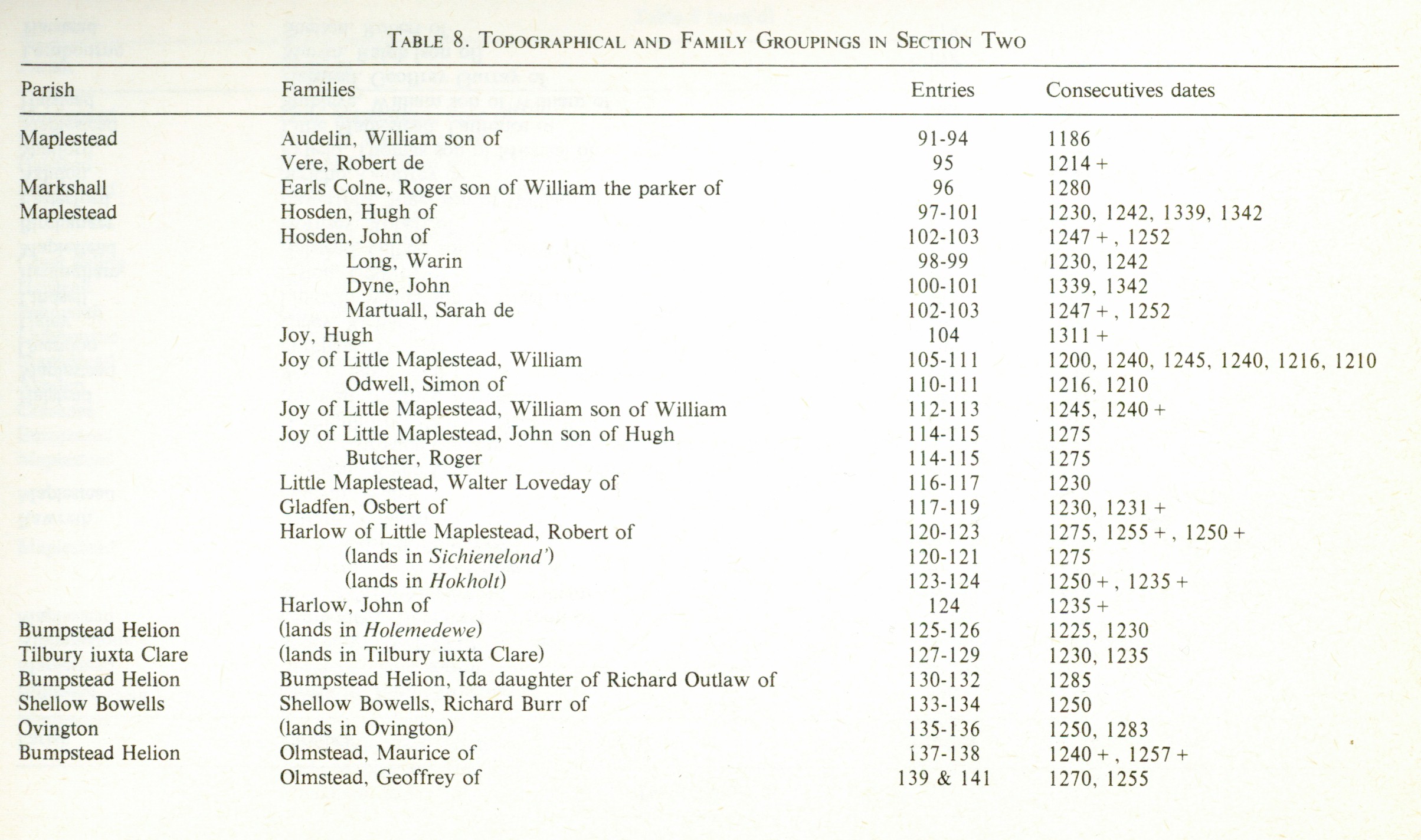 Chambers' Papers for the People, Volume 3
....
The papal censure was disregarded by the Templars ; and though they professed obedience to the legate of the pope in 1219, when he headed the
expedition into Egypt, it was they who really directed the legate. In this expedition, and particularly in the siege of Damietta, the knights greatly distinguished themselves ;

but when the Emperor Frederick II. undertook the crusade in 1228, they gave him all the opposition in their power, and
wrote to the sultan of Egypt to inform him of the emperor's plans. The sultan sent the letter to Frederick, who, on his return to Europe, revenged
himself upon the order by seizing all its possessions throughout Italy and Sicily.

In attacking the Templars, and defending this confiscation of their property, the emperor made it an important charge against them, that
they were friendly to the Moslems. ' We know on good authority,' said he, ' that sultans and their trains are received with pompous alacrity
within the gates of the temple, and that the Templars suffer them to celebrate secular plays, and to perform their superstitious rites with invocation
of Mohammed.' The Templars retaliated by dispossessing the Teutonic knights of all their possessions in Syria, and entered into an alliance with
the emir of Damascus against the Hospitallers.
The invasion of the Turks compelled the rival orders to unite for their common safety ; but they suffered a severe defeat near Damascus, in which the master and 300 knights
were slain. Only Acre now remained in possession of the Christians, and the Templars appear at this time to have meditated a complete retreat
from the East ; but the animosity which had been long gathering between this or der and that of the Hospitallers at length burst into a flame,
and in 1259 a pitched battle was fought between them, in which the Templars were completely routed. From this period no event of importance in the annals of the order occurred until 1291, when Acre was taken by storm by the Moslems, and the remnant of the Templars sought refuge
in the island of Cyprus.
| - - - - - - - - - - - -
I found it interesting Ida Outlaw is a widow but we don't know who her husband was ... yet it was more important that she was the daughter of "Sir" Richard Outlawe ..

so here is the actual document reference to her lease ( to earn income) to the Hospitallers and another document explaning widowhood in the 1300's :
http://deeds.library.utoronto.ca/charters/00880130

Know all men present and future know that I, Ida, had once been the daughter of Sir Richard le Outlaw of Bumpstead Helyun this in the pure widowhood, and the manner of the use of my right have given, granted and by this my present charter have confirmed to God and the Blessed Mary and to St John the Baptist and the brethren of the Hospital of St. John of Jerusalem in England; Maplestead residing, or of in the same place serving God, for the salvation of the souls of my ancestors, have five acres of land and half an acre of meadow, with the appurtenances, lying in the Bradecroft, to have and to hold of me and my heirs or my assigns, the aforesaid brothers, and their successors, freely, quietly, well and in peace, for ever paying for them annually, to me me or assigns brothers and their successors guarantee all men and all fully defend the aforesaid five and a half acre of land with its properties as previously indicated by that service free to all men and women permanently Witness Andrea Helyun William Olmestede Giovanni Olmestede Stephan, son of John Stephen Thomas Beucham soldiers Lancelyn Launcelyn John William Panymere and others Given the road iustic [iariis] Chelmereford year in the reign of king Edward


https://etd.ohiolink.edu/rws_etd/document/get/osu1211560325/inline

ii
ABSTRACT
Women in late medieval London received significant portions of their husbands' estate as dower - anywhere from one-third to one-half. Laws may have limited the widows' ownership to their lifetimes, but the widows were free to collect any financial interests the property accrued during their possession
...
They rarely granted the property for their lifetimes, and instead used this portion of their holdings to earn income through quitclaims. After the plague, however, citizens retained larger property holdings, thereby increasing their widows' dowers. In the second half of the fourteenth century, widows alienated these additional holdings in return for financial profits. Throughout the century, however, widows generally conformed to borough customs. ...
---
http://magnacarta.cmp.uea.ac.uk/read/feature_of_the_month/Mar_2015
...
The King was signed with the cross at London, on Ash Wednesday (4 March 1215) by William bishop of London, and with him, or after him, many of his associates, very much at his prompting, donning white crosses, like the King's, or like that of his brother or father. It was the ancient custom that the English be signed with white crosses, just as the French were signed with red
---
Maine Coon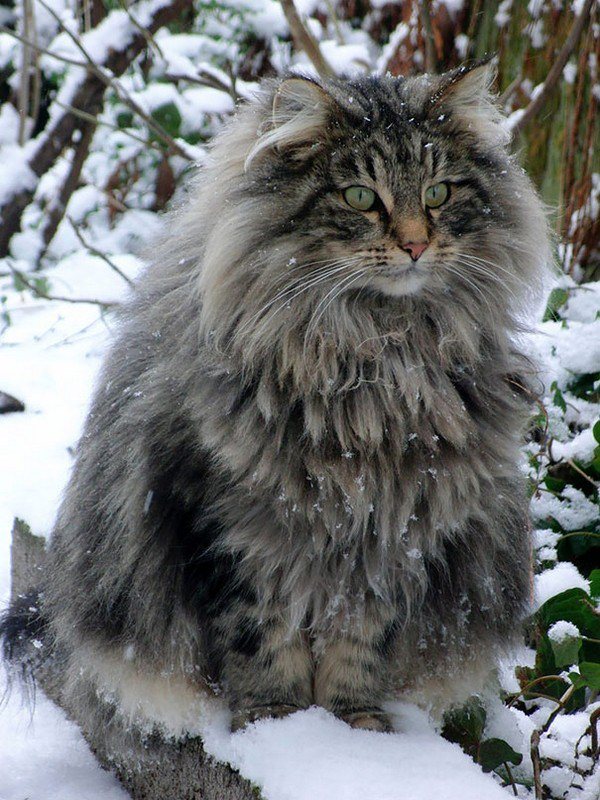 "Some say the Vikings brought him to North America, centuries before Columbus sailed the ocean blue,"

http://cattime.com/cat-breeds/maine-coon-cats#/slide/1

History

The Maine Coon is a native New Englander, hailing from Maine, where he was a popular mouser, farm cat and, most likely, ship's cat, at least as far back as the early 19th century. He is a natural breed and little is known of his origins. Some say the Vikings brought him to North America, centuries before Columbus sailed the ocean blue, others that he is the descendant of longhaired cats belonging to Marie Antoinette, sent to America in advance of the doomed queen, who had hoped to escape there. Sea captains may have brought back longhaired cats that then mated with local shorthaired cats. One thing is for sure: the Maine Coon is not the result of a mating between a cat and a raccoon, even if his brown tabby coat and furry ringed tail suggest that biological impossibility. The resemblance is, however, how the cats got their name; in fact, Maine Coons that didn't have the brown tabby coat were called Maine Shags.
...
... they are the official state cat of Maine.


https://www.scientificamerican.com/article/how-cats-conquered-the-world-and-a-few-viking-ships/
How Cats Conquered the World (and a Few Viking Ships)

A large-scale study of ancient feline DNA charts the domestication and global spread of house cats
By Ewen Callaway, Nature magazine on September 20, 2016
...

Sea-faring people probably kept cats to keep rodents in check, says Geigl, whose team also found cat remains with this maternal DNA lineage at a Viking site dating to between the eighth and eleventh century A.D. in northern Germany.

"There are so many interesting observations" in the study, says Pontus Skoglund, a population geneticist at Harvard Medical School in Boston, Massachusetts.

"I didn't even know there were Viking cats."

He was also impressed by the fact that Geigl's team was able to discern real population shifts from mitochondrial DNA, which traces only a single maternal lineage. Nonetheless, Skoglund thinks that nuclear DNA--which provides information about more of an individual's ancestors--could address lingering questions about cat domestication and spread, such as their relationship to wild cats, with which they still interbreed.
...


see also: http://www.smithsonianmag.com/smart-news/dna-study-details-spread-cats-around-world-180960573/

And: http://www.nature.com/news/how-cats-conquered-the-world-and-a-few-viking-ships-1.20643

Maine Coon and Forest Cat related ? - Probably ...

http://nowtrendingstory.com/norwegian-forest-cat-breed-information/

The Norwegian Forest Cat comes from the native of Norway, with a history going back hundreds and maybe thousands of years. He features in many fairy tale stories and legends. One of a popular legend describes that six gigantic cats pull the Chariot of Norse goddess Freya. Where any how these cats came into existence is a long unsolved mystery.
...
It is very much likely that the Norwegian Forest Cats were serving on the Viking Ship as the cats of the ship, also called mousers.
...

http://nowtrendingstory.com/wp-content/uploads/2017/03/Norwegian-Forest-Cat-3.jpg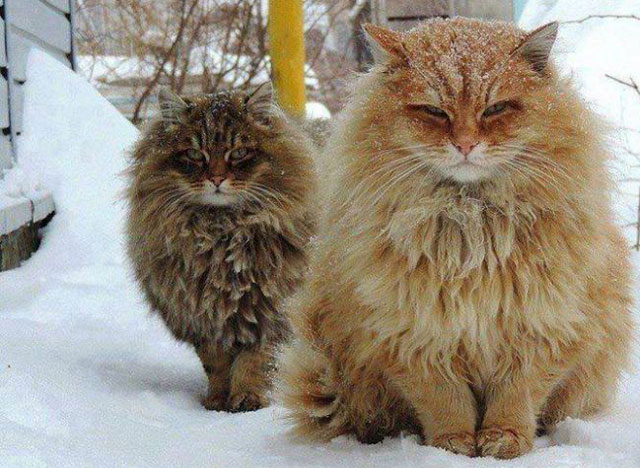 http://www.winterfyre.com/
http://www.winterfyre.com/mandy1.jpg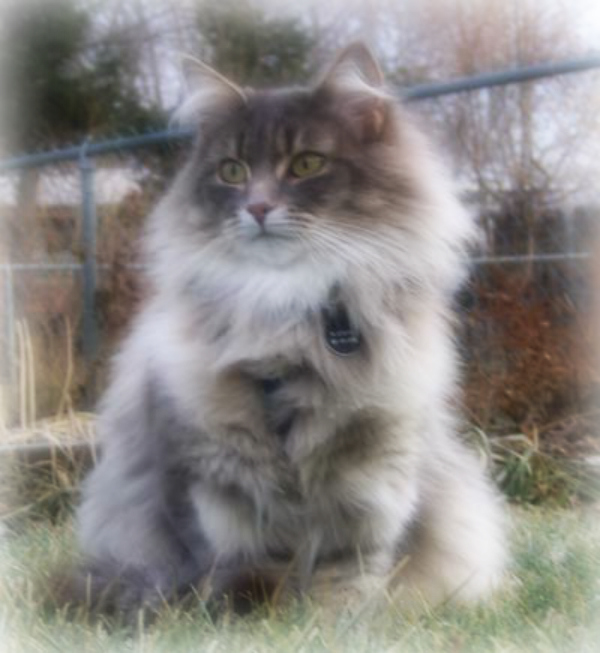 http://www.winterfyre.com/testing/


https://www.vgl.ucdavis.edu/services/cat/ancestry/faq.php
Cat Ancestry - Frequently Asked Questions (FAQs)
...

FAQ Answers . About Cat Ancestry

What information will the cat ancestry test provide?

Cat Ancestry is a novelty test to investigate ancestry and determine which of the 8 geographic regions your cat descends from: Western Europe, Egypt, East Mediterranean, Iran/Iraq, Arabian Sea, India, South Asia and East Asia.

Your cat's sample will be compared to the 29 reference populations from four of the regions: Western Europe, South Asia, Eastern Mediterranean and Arabian Sea. If your cat associates strongly with one of the 29 reference populations, the information is reported. In addition, the Cat Ancestry report includes the genetics of your cat's coat colors, fur length and fur type.

| - - -

http://mainecoon.org/maine-coons-vs-norwegian-forest-cats/
Maine Coons vs. Norwegian Forest Cats

Maine Coon cats and Norwegian Forest cats look very similar, and some experts that believe that the Maine Coon is a descendant of the Norwegian Forest cats since they share so many similar traits.

They are both large breeds of cats. They both have long silky coats. They are both well known for being outgoing and friendly but there are some differences in both appearance and personality. Maine Coons are well-known for their intelligence and their ability for quickly learning new things.

Maine Coons also really enjoy the company of people and are very loyal. Norwegian Forest Cats are also very intelligent and easy to train, but they are not that interested in the loyalty part if you are not willing to interact with them.
...

http://wickedyankee.blogspot.com/2011/12/maine-coons-that-yankee-cat.html
Maine Coons - That Yankee Cat

....
in Ring of Seasons: Iceland - Its Culture and History, author Terry G. Lacy states that a DNA connection has been found between cats from Iceland and the cat populations in other places that have or may have experienced Norse visitation. She lists New York and Boston as being two of these areas. However, she also states that there have been no archeological findings to support this connection so far. Therefore, the theory is interesting, but so far unproven.

If remains of cats are found in areas of Norse settlement in North America or more DNA research is done to find connections between Maine Coons and Norwegian Forest Cats, I'd be happy to look into this idea further.

http://archiver.rootsweb.ancestry.com/th/read/GENEALOGY-DNA/2006-03/1142992542


> I mention an older study below:
>
> Adelsteinson, S., and B. Blumenberg.

Possible Norse origin for two Northeastern USA cat populations. Zeitschrift für Tierzüchtung und Züchtungsbiologie 100 (1983): 161-174. They consider a possible Norse/Viking origin for two northeastern U.S. cat populations.

These clearly demonstrate similarity to Scandinavian felines on the basis of genetic distance calculations reinforced by discriminant analysis. The possible biogeographic reality of such mathematical relationships is discussed in reference to genetic drift and available historical and ethnographic information. [Sorenson] Cited in Bergersen [has "Adalsteinson"], Sorenson
>


http://www.sciencedirect.com/science/article/pii/S0888754307002510

https://ars.els-cdn.com/content/image/1-s2.0-S0888754307002510-gr2.jpg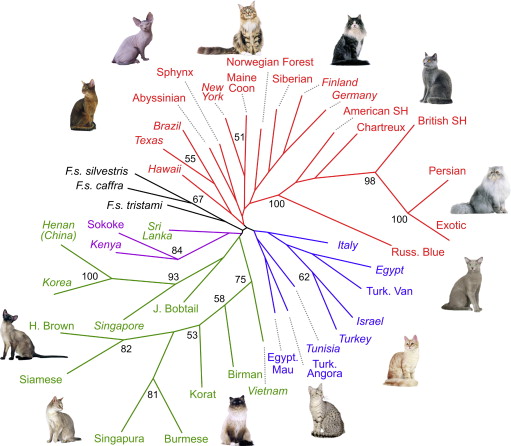 Fig. 2.

Neighbor-joining tree of cat breeds and populations. The phylogenetic tree was constructed using Cavalli-Sforza's chord distance. Bootstrap values above 50% are presented on relationship nodes. Asian (green), Western European (red), East African (purple), Mediterranean basin (blue), and wildcat (black) populations form strongly supported monophyletic branches. European and African wildcats are closely related, whereas short branches of most all other populations indicate close relationships of these breeds and populations. Random-bred populations are indicated in italics, breeds are in standard font. Cat photographs courtesy of Royal Canin and Richard Katris of Chanan Photography.

---
Viking trade in red squirrels may have spread leprosy

Red squirrels traded by Vikings could have brought leprosy to pre-medieval England, according to archaeologists.

Research has revealed that a pre-Norman skull found in Hoxne in Suffolk has a leprosy strain closely related to a type known to affect squirrels.

The strain has also been found in Medieval Scandinavian skeletons.

Cambridge University's Sarah Inskip said contact with the "highly-prized squirrel pelt and meat" traded by Vikings could have spread the disease.

Radiocarbon dating revealed the woman's skull, which is held at Diss Museum in Norfolk, dates to between 885 and 1015 AD.

It has the same strain of leprosy as that identified in skeletal remains found in Medieval Denmark and Sweden.

Dr Inskip said: "That [leprosy] may also come from squirrels is an interesting idea."

King's Lynn and Yarmouth in Norfolk were "significant ports for fur imports" from Denmark and Sweden at this time, she added.

The animals were also sometimes kept as pets.

| - - - -

http://nrocat.norfolk.gov.uk/DServe/dserve.exe?dsqServer=NCC3CL01&dsqIni=dserve.ini&dsqApp=Archive&dsqCmd=Show.tcl&dsqDb=Catalog&dsqPos=0&dsqSearch=%28%28text%29%3D%27%20Laurence%20Outlaw%20utlator%27%29

1200-1250 - Deed of grant, Lynn - 1d annual rent from a certain [piece of land] 4 feet wide in Damgate held by Peter Strac - Grant by Laurence Outlaw (utlator) of Len [Lynn] to the Hospital of the Blessed Mary Magdalen of Len and to the infirm brothers there for the souls of his parents and his benefactors, the 1d to come from his purse during his lifetime

Witnesses: Robert the mayor of Len, Ralph Kelloc, Adam de Gernemut, William clerk of Gernemut, Robert the son of David, Richard de Brecha., William son of Aelld., William son of Milon, John de Geywdia, Michael de Beaw., Yvone de Lincoln, William the son of Richard, John the son of Astin and many others
Endorsed as relating to Lenne.
The Manuscripts of the Corporations of Southampton and King's Lynn ...
By Great Britain. Royal Commission on Historica


Medieval Leper Hospitals in England: An Archaeological Perspective
By SIMON ROFFEY



---
---- >>> Back to Outlawe Research Journal - Page 13