Outlawe Research Journal - Page 14
---
---
Some new information to post ( using new publication tools hmm lets see... )
Here we have a pair of War of Roses warriors : John Outlawe a Norfolk Archer and Richard Outlaw a Naval Gentleman Man-at-Arms

Interesting ties to Ireland as well with John Outlawe's connection to Richard of York
1437 - John Outlawe - 03/23/1437 - Archer - Les Andelys - Captain Thomas Picot - John Talbot Earl Shrewsbury - BNF, MS. Fr. 25773, no. 1175

1441 - John Outlawe - 1441 - Archer - Expedition France - Richard Duke of York - Richard Duke of York - TNA, E101/53/33, m3

1445 - John Outlawe - 06/15/1445 - Archer - Retinue Kings Councillor - Sir William Oldhall - TNA, E101/53/33, m3
---
1442 - Richard Outlaw - 09/14/1442 - Man-at-Arms - Naval Service - Captain Miles Stapleton - BL, Add. MS. 21411, f. 30
http://www.medievalsoldier.org/database/maindbsearch.php ( search Owtlawe )
Outlawe, John 03/23/1437 - 1441 - 06/15/1445
Outlawe, Richard 09/14/1442
Name

| Name | Origin | Status | Rank | Service | Captain | Lieutenant / Sub-Captain | Commander | Service Date | Source Type | Reference |
| --- | --- | --- | --- | --- | --- | --- | --- | --- | --- | --- |
| Outlawe, John | | | Archer | Detachment, garrison of Regneville, Vexin; mustered: Les Andelys | | Picot, Thomas | Talbot, John (1385 - 1453) earl of Shrewsbury | 14370323 | Muster Roll | BNF, MS. Fr. 25773, no. 1175 |
| Outlawe, John | | | Archer | Expedition, France | York, Richard of (1411 - 1460) duke of York | | York, Richard of (1411 - 1460) duke of York | 1441 | Retinue roll | TNA, E101/53/33, m3 |
| Outlawe, John | | | Archer | Official Retinue, king`s councillor | Oldhall, William, Sir (c. 1390 - 1460) | | | 14450615 | Muster Roll | BL, Add. MS. 21411, f. 30 |
| | | | | | | | | | | |
| --- | --- | --- | --- | --- | --- | --- | --- | --- | --- | --- |
| Outlaw, Richard | | | Man-at-Arms | Naval Service | Stapleton, Miles | | | 14420914 | Muster Roll | TNA, E101/54/3, no2_m1 |
---
What is very interesting about this is that John Outlawe became part of the royal court of Richard Duke of York .
"Official Retinue, king`s councillor" Richard was in direct line to be King.
https://en.wikipedia.org/wiki/William_Oldhall

Sir William Oldhall (1390?–1460) was an English soldier and Yorkist supporter, who served as Speaker of the House of Commons of England between 1450-51

The son and heir of Sir Edmund Oldhall of Narford, Bodney, and East Dereham, Norfolk, by Alice, daughter of Geoffrey de Fransham of the same county, he was born about 1390. As an esquire in the retinue of Thomas Beaufort, 1st Earl of Dorset, he was present at the siege of Rouen in 1418–19. He also served under Thomas Montacute, 4th Earl of Salisbury in the expedition for the relief of Crevant, July 1423, and won his spurs at the battle of Verneuil on 17 August 1424. About this date he was made seneschal of Normandy. In the subsequent invasion of Maine and Anjou he further distinguished himself, and was appointed constable of Montsoreau and governor of St. Laurent des Mortiers.
In the summer of 1426 Oldhall was employed in Flanders on a mission to Philip the Good, Duke of Burgundy concerning Jacqueline, Duchess of Gloucester, then a prisoner in the duke's hands. In October 1428 he was detached by the council of Normandy to strengthen the garrison of Argentan, then in danger of falling by treachery into the hands of Jean II, Duke of Alençon. He was present at the great council held at Westminster, 24 April–8 May 1434, on the conduct of the war in France, and also at the council of 24 February 1438–9. In 1440 he was chamberlain to Richard of York, 3rd Duke of York, and a member of his council, and the following year was made feoffee to his use and that of his duchess Cecilia of certain royal manors. In the struggle for the retention of Normandy he commanded the castle of La Ferté Bernard, which fell into the hands of the French on 16 August 1449.
Oldhall was with the Duke of York in Wales in September 1450; was returned to parliament for Hertfordshire on 15 October of the same year, and on 9 November following was chosen Speaker of the House of Commons. Indicted in 1452 for complicity in the insurrection of Jack Cade and the subsequent rebellion of the Duke of York, he was found guilty, outlawed, and attainted on 22 June. He took sanctuary in the chapel royal of St. Martins-le-Grand, where he remained in custody of the king's valet until after the First Battle of St Albans on 22 May 1455, but obtained his release and the reversal of his outlawry and attainder on 9 July. He was again attainted in November 1459 as a fautor and abettor of the recent Yorkist insurrection; but on the accession of Edward IV of England the attainder was treated as null and void. He died in London in November 1460, and was buried in St Michael Paternoster Royal.[3]
Besides his Norfolk estates Oldhall held (by purchase) the manors of Eastwich and Hunsdon, Hertfordshire. On the latter estate he built, at the cost of seven thousand marks, a castellated brick mansion. It remained in the Crown, notwithstanding the avoidance of his second attainder, and was converted by Henry VIII into a royal residence. In 1558 it was granted by Elizabeth I to Sir Henry Cary. It was later transformed into the existing Hunsdon House.
https://en.wikipedia.org/wiki/Richard_of_York,_3rd_Duke_of_York
Richard of York, 3rd Duke of York KG (21 September 1411 – 30 December 1460), was a leading English magnate, a great-grandson of King Edward III through his father, and a great-great-grandson of the same king through his mother. He inherited vast estates and served in various offices of state in Ireland, France, and England, a country he ultimately governed as Lord Protector during the madness of King Henry VI. His conflicts with Henry's wife, Margaret of Anjou, and other members of Henry's court, as well as his competing claim on the throne, were a leading factor in the political upheaval of mid-fifteenth-century England, and a major cause of the Wars of the Roses. Richard eventually attempted to take the throne, but was dissuaded, although it was agreed that he would become king on Henry's death. But within a few weeks of securing this agreement, he died in battle.
Although Richard never became king himself, he was the father of King Edward IV and King Richard III.
Ireland (1445–1450)
[
edit
]
York returned to England on 20 October 1445 at the end of his five-year appointment in France. He must have had reasonable expectations of reappointment. However, he had become associated with the English in Normandy who were opposed to the policy of Henry VI's Council towards France, some of whom had followed him to England (for example Sir William Oldhall and Sir Andrew Ogard). Eventually (in December 1446) the lieutenancy went to Edmund Beaufort, 2nd Duke of Somerset, who had succeeded his brother John. During 1446 and 1447, York attended meetings of Henry VI's Council and of Parliament, but most of his time was spent in administration of his estates on the Welsh border.
---
https://en.wikipedia.org/wiki/John_Talbot,_1st_Earl_of_Shrewsbury
John Talbot, 1st Earl of Shrewsbury and 1st Earl of Waterford KG (1384/1387 – 17 July 1453), known as "Old Talbot", was a noted English military commander during the Hundred Years' War, as well as the only Lancastrian Constable of France.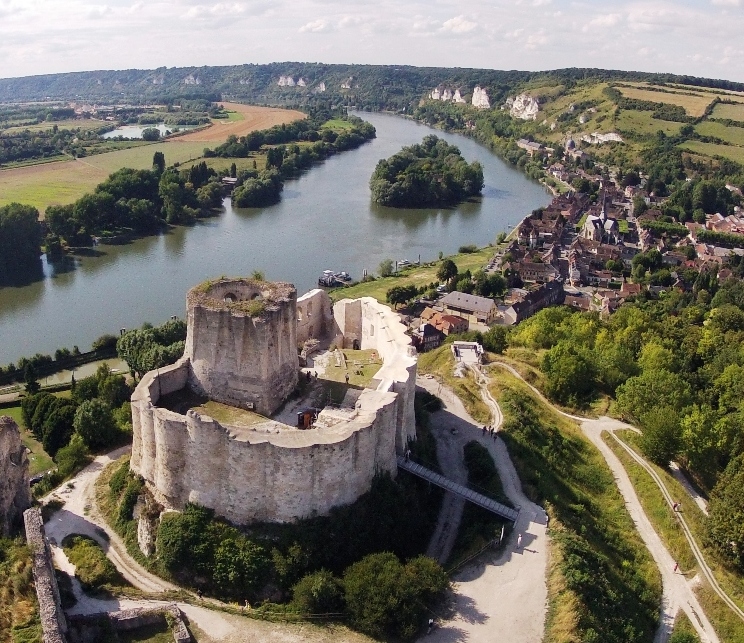 Château Gaillard (Les Andelys)
In January 1436, he led a small force including Thomas Kyriell and routed La Hire and Xaintrailles at Ry near Rouen. The following year (1437) at Crotoy, after a daring passage of the Somme, he put a numerous Burgundian force to flight. In December 1439, following a surprise flank attack on their camp, he dispersed the 6000 strong army of the Constable Richemont, and the following year he retook Harfleur. In 1441, he pursued the French army four times over the Seine and Oise rivers in an unavailing attempt to bring it to battle.
Lord Shrewsbury
[
edit
]
Around February 1442, Talbot returned to England to request urgent reinforcements for the Duke of York in Normandy. In March, under king's orders, ships were requisitioned for this purpose with Talbot himself responsible for assembling ships from the Port of London and from Sandwich.[14]
On Whit Sunday, 20 May, Henry VI created him Earl of Shrewsbury. Just five days later, with the requested reinforcements, Talbot returned to France where in June they mustered at Harfleur. During that time, he met his six-old year daughter Eleanor for the first time and almost certainly left the newly created Countess Margaret pregnant with another child.[15]
In June 1443, Talbot again returned to England on behalf of the Duke of York to plead for reinforcements, but this time the English Council refused, instead sending a separate force under Shrewsbury's brother-in-law, Edmund Beaufort. His son, Sir Christopher stayed in England where shortly afterwards he was murdered with a lance at the age of 23 by one of his own men, Griffin Vachan of Treflidian on 10 August at "Cawce, County Salop" (Caus Castle).[
---
Now the Timothy Outlaw Geneoloy book can be found in an online library:
---
---
The Soldier in Later Medieval England
1442 - Richard Outlaw - 09/14/1442 - Man-at-Arms - Naval Service - Captain Miles Stapleton - TNA, E101/54/3, no2_m1
Birth:
1395 Ingham Norfolk, England
Death:
Oct. 1, 1466 Ingham Norfolk, England

Sir Miles Stapleton, KG (1395 – 1 October 1466) was Lord of the Manor of Ingham, Norfolk and de jure Baron Ingham of Ingham, Norfolk, and Lord of the Manor of Bedale, North Yorkshire.

Sir Miles Stapleton was the son of Sir Brian Stapleton, of Ingham (1379 - 1438), Sheriff of Norfolk, a veteran of the Battle of Agincourt, and Cecily Bardolf (d. 1432), daughter to William Bardolf, 4th Baron Bardolf, of Wormegay, Norfolk, and Agnes de Poynings.

Sir Miles Stapleton married firstly Elizabeth Felbrigge, daughter of Sir Simon Felbrigge, Knight of the Garter, of Felbrigg, Norfolk by Margaret, perhaps of Teschen, a kinswoman and lady in waiting to English queen Anne of Bohemia. They had no issue. He married secondly in 1438, Katherine de la Pole (1416-1488, buried in Rowley Abbey, Oxfordshire), daughter and heiress to Sir Thomas de la Pole (aft. 1397-1433), who died in France while a hostage for his brother William, son to Michael de la Pole, 2nd Earl of Suffolk. They had two known daughters, the eldest, Elizabeth Stapleton, married before March 1464, Sir William Calthorpe, Knt., of Burnham Thorpe, Norfolk. The younger daughter, Jane (or Joan) Stapleton (d. 1519), married Sir Christopher Harcourt, Knt., of Great Ashby, (Ashby Magna), Leicestershire (d. 1474).

He was a Knight of the Shire for Suffolk, and for Norfolk also, and was High Sheriff of Norfolk and Suffolk in 1440. In 1441-2 Sir Miles Stapleton and Thomas Tudenham were summoned as Knights and M.P.'s for Norfolk to attend the Privy Council.

Stapleton was in the French wars, where he is said to have single-handedly taken seven prisoners. He had a Royal Commission for the safekeeping of the seas in 1442. The following year he and his brother, Bryan Stapleton of Crispings, in Happisburgh, & Hasilden, Norfolk, received the thanks of the Privy Council in connection with a riot at Norwich.


A man-at-arms was a soldier from the High Medieval to Renaissance periods who was typically well-versed in the use of arms and served as a fully armoured heavy cavalryman.[a] A man-at-arms could be a knight or nobleman, a member of a knight or nobleman's retinue or a mercenary in a company under a mercenary captain. Such men could serve for pay or through a feudal obligation. The terms knight and man-at-arms are often used interchangeably, but while all knights equipped for war certainly were men-at-arms, not all men-at-arms were knights.
...
Social status
The social structure of the Anglo-Norman society of England was relatively rigid, however, one of the easiest ways for a man to improve his social rank was through military service; another method was through the church. In the Norman states, unlike in many other contemporary societies, the knighting of men of common birth who had demonstrated ability and courage on the field of battle was possible. Although rare, some non-knightly men-at-arms did advance socially to the status of knights. The knighting of squires and men-at-arms was sometimes done in an ignoble manner, simply to increase the number of knights within an army (such practice was common during the Hundred Years' War). In chivalric theory, any knight could bestow knighthood on another, however, in practice this was usually done by sovereigns and the higher nobility. It is recorded that the great mercenary captain Sir John Hawkwood knighted a number of his followers, as many as twenty on one occasion, though he could reasonably be expected to provide the income his created knights required to maintain their new status.[23] Attempts to restrict the power of commanders to make knights would increase during the 16th century and by the end of Elizabeth I's reign, the practice had all but ceased.[24]
Although a knight bachelor, a knight banneret and all grades of nobility usually served as men-at-arms when called to war, the bulk of men-at-arms from the later 13th century came from an evolving social group which became known as the gentry. The man-at-arms could be a wealthy mercenary of any social origin, but more often he had some level of social rank based on income, usually from land. Some came from the class known as serjeants but increasingly during the 14th century they were drawn from an evolving class of esquire. Esquires were frequently of families of knightly rank, wealthy enough to afford the arms of a knight but who had thus far not been advanced to knightly status or perhaps had avoided it because they did not want the costs and responsibilities of that rank. Also found serving as men-at-arms were the lowest social group of the gentry, known by the 15th century simply as gentlemen.
The proportion of knights among the men-at-arms varied through time. Between the 1280s and 1360s, figures between 20-30% were commonplace. Thereafter, there was a rapid decline, with the figure dropping to 6.5% in 1380. A slight rise is recorded to 8% at Agincourt, perhaps because this was a royal army, but thereafter the figure continued to decline and by 1443, the Duke of Somerset mustered only 1.3% knights among his men-at-arms.[26]
---
---- >>> Back to Outlawe Research Journal - Page 13