Matthew Kemp - Virginia
---
Matthew Kemp in Virginia:
Since Edward and John Outlawe were cousins to Matthew Kemp, they may have teamed up together for the voyage to Virginia:
Encyclopedia of Virginia biography, under the editorial supervision of Lyon ... edited by Lyon Gardiner Tyler
1659 - (Col.) Matthew Kemp - son of Edmond Kemp - grant to him 1100 acres on Planketank - Lancaster/Middlesex Virginia sheriff of the county 1659 - died 1683 - Edmund Kemp was the grandson of Robert Kemp and nephew of Sir Robert Kemp,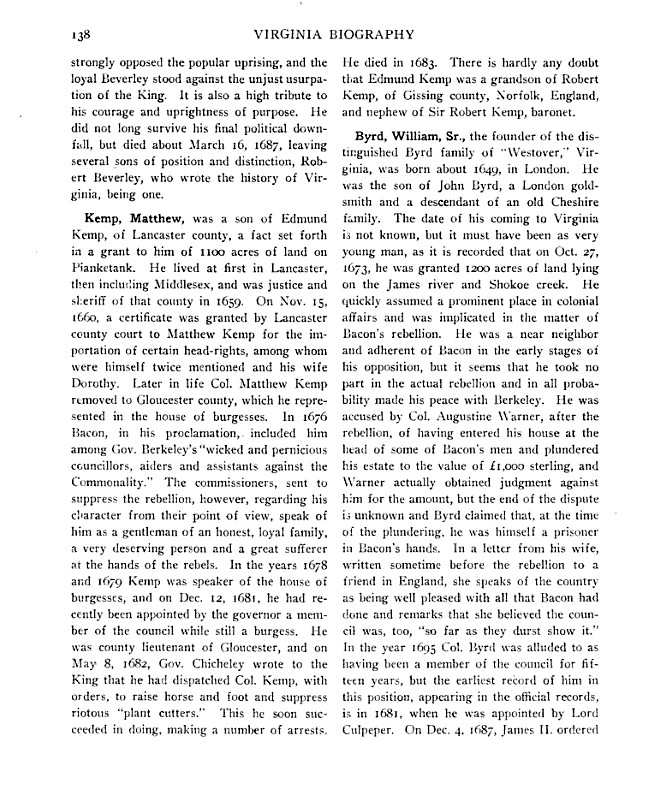 The Virginia magazine of history and biography, Volume 3 By Virginia Historical Society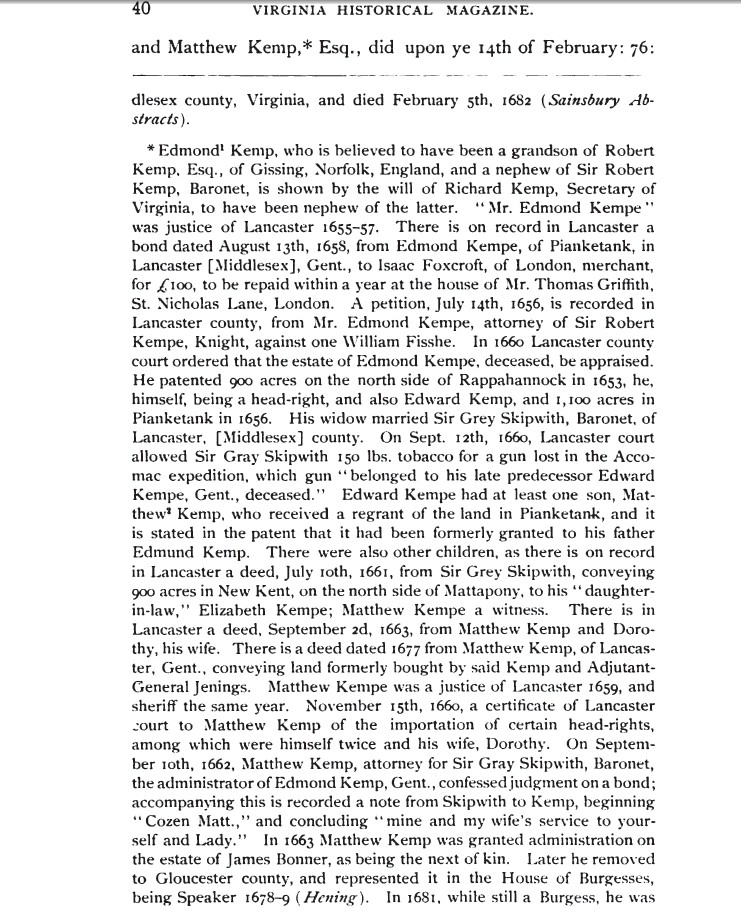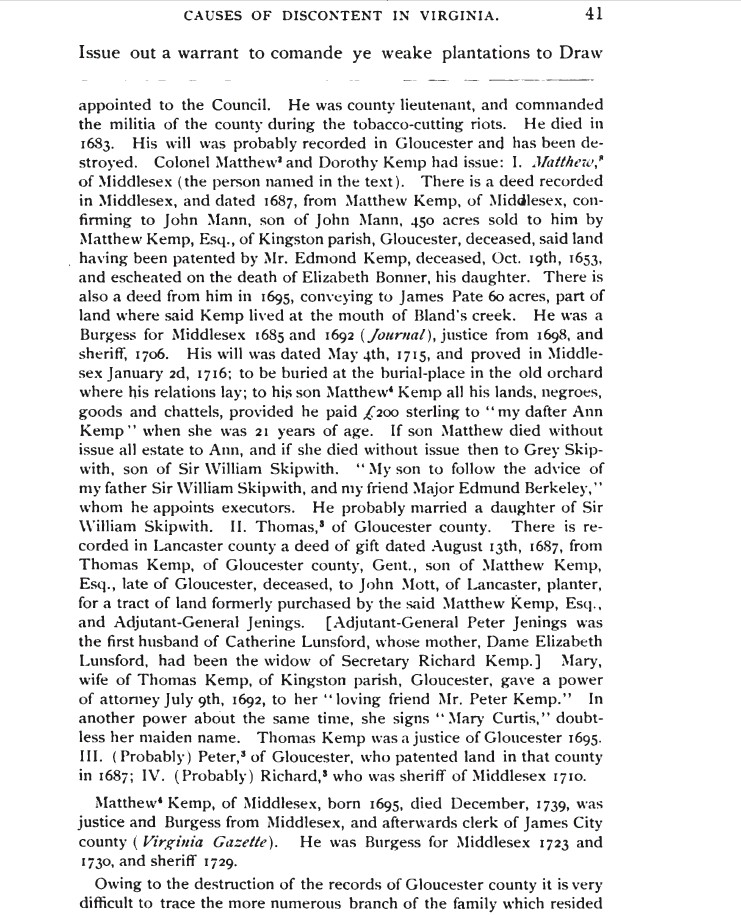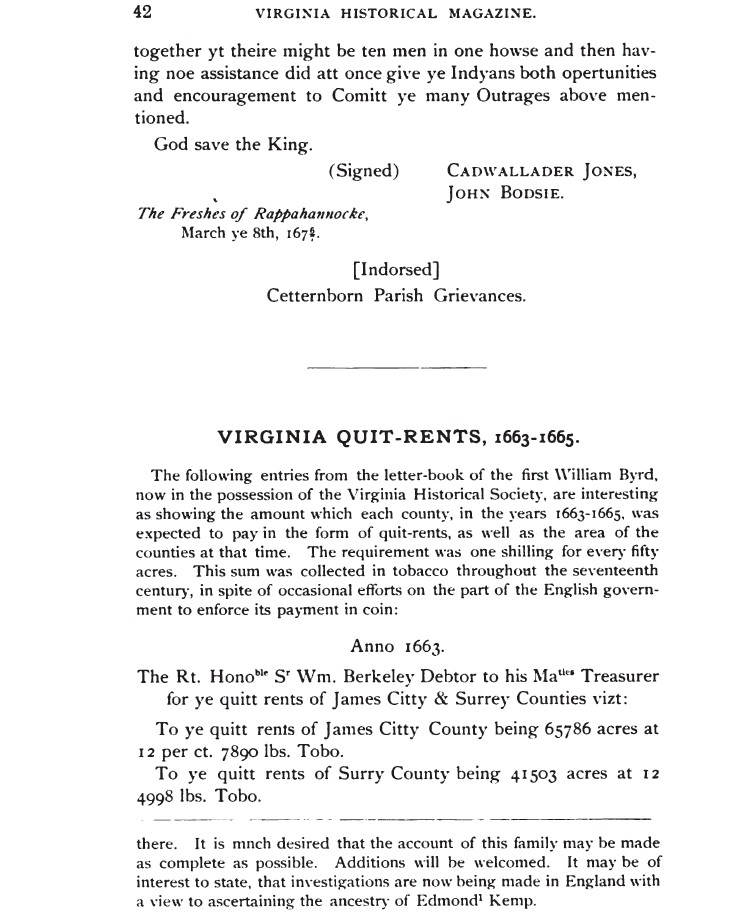 The visitation of Suffolke, Volume 2 By William Harvey, Joseph Jackson Howard, England. College of arms
---
IV. RALPH OUTLAW, born ca. 1595. Married Elizabeth Kempe ca. 1615-16. He died July 4, 1671.
Children:
(1) Thomas;
(2) Rev. Ralph Outlaw;
(3) Elizabeth; (4) Mary;
(5) Robert, Sec. V;
(6) Charles;
(7) Edward
V. ROBERT OUTLAW, (IV-III-II-I) our prime suspect as being a father of Capt. John and Edward.
---
Estates in Virginia Virginia Counties - Middlesex County
Middlesex County, Virginia is the finest in rural living in Chesapeake Bay Country. Middlesex County is a small peninsula surrounded on one side by the Rappahannock River and on another by the Piankatank River. The county is located close to major urban areas such as Richmond, Virginia and Washington D.C. With approximately 10,000 residents, the county encompasses 130 square miles of land bordering the Chesapeake Bay. Mathews County is South of Middlesex County, King and Queen County are west of it, and Lancaster County is Northeast. The county seat is Saluda. Each year, an annual Oyster Festival in Urbanna is held to celebrate the shellfish harvest from the Chesapeake Bay.
A Place in American History: Middlesex County Virginia
Settlement of Middlesex County began in 1640. Present day Middlesex County was officially part of Lancaster County in 1669. Urbanna was established as a port city by 1680, serving as a shipping center and later as a commercial hub. Deltaville is also a bustling center, situated at the mouth of the Rappahannock and Piankatank Rivers. Deltaville was well known as a center for the wooden boat building craft and trade dating back to the Early American era. Saluda, the present day seat of Middlesex County, is also a center of activity in Middlesex County.
Waterfront Estates, Country Estates, and Historic Property, in Middlesex County
Middlesex County is mostly rural with country estates and historic properties dating back to the Colonial and Civil War eras. The county has a significant amount of waterfront property either on or with access to the Chesapeake Bay. The town of Deltaville sits on the junction of the Rappahannock and Piankatank Rivers, making Middlesex County easily accessible to the Chesapeake Bay by boat via tidal rivers. In short, Middlesex County is a wonderful location to either purchase or build a waterfront estate.
Urbanna, virginia - Google Maps