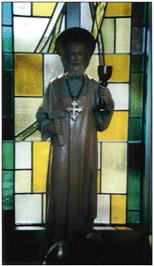 Our Patron,
Saint Dunstan, was born in 909 in Baltonsborough, England
, of noble ancestry.
He was educated by Irish monks.
He became a Benedictine monk in 934 and was ordained a priest in 939. From that time until his death in 988, Dunstan was well known for establishing many great abbeys such as Glastonbury and Westminster, He was very instrumental in reforming and rebuilding many of the monasteries destroyed by the Danish invaders. They became great learning centers, ordaining many monastic bishops for England and missionaries for Scandinavia.
Dunstan was a person of great holiness and loved by his disciples and colleagues, kings and commoners alike. He was deeply involved in the politics of that time and was King Edgar's chief advisor in matters of Church and State from 959 until 975.
Dunstan was a very energetic man and respected as a creative artist in metal work. He was also a noted musician, playing the harp and composing several hymns.
Dunstan was immediately venerated as a saint all over England when he died in 988. He stands as one of the greatest of all the Archbishops of Canterbury.
Dunstan is a patron saint of metalworkers, goldsmiths and jewelers