---
SCCA Stock: FS
---
SCCA Stock: GS
---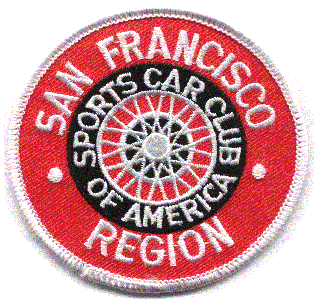 Solo II Car Classifications SCCA Virgins Time Cards
Upcoming Events:
McClellan Park - Sept 21 - Sacramento CUP 9

From the Bay Area,
take I-80 to Sacramento;
There, continue on I-80 towards Reno, avoiding downtown Sacramento;
Exit at the Watt Ave exit;
Turn left onto Watt;
In 1 or 2 miles you'll see a big sign for the McClellan Peacekeeper Gate base checkpoint;
Enter there
Tell the guard you're going to the autocross (may have to show driver's license or ID.)
Get directions to the site from the guard, or follow these:
Go straight to Dudley Blvd (light),
Turn right on Dudley and proceed to James Way (stop sign),
Turn left on James Way and continue to the cones.
Follow the cones
McClellan Park - Sept 22 - Sacramento CUP 10

Golden Gate Fields, Albany, CA Sunday, September 29th, 2002 Slush Round 1

From the Bay Area:
Take I80 to Albany -- just East of the Bay Bridge exit.
Exit at the Gilman St. exit
Go toward the bay, follow the road uphill and enter the GGF there.
You will be stopped by a guard who will ask for $2.
Tell him/them you are with the sports car club, and he should let you go in for free.
FS
300ZX turbo (pre-'90)
FS
300ZX, non-turbo ('90+)
GS
300ZX, non-turbo (pre '90)
SCCA Street prepared:
| | |
| --- | --- |
| ESP | 300ZX non-turbo ('84-'89) |
---